The Douglas County Free Fair kicked into full swing Tuesday with the judging of nonlivestock exhibits, the entering of all livestock, and the first day of both the president's pie baking contest and the carnival.
Joshua Lesser's six-and-a-half foot rocket was one of 56 entries judge Roger Miller evaluated in the afternoon.
The 17-year-old Lesser, who will be a senior at Shawnee Heights High School this year, said his rocket went 650 feet in the air when he tested it before the competition.
"That's actually pretty low; I've had one go 1,000 feet before," Lesser said. "The best part of building rockets is pushing the button and watching it fly."
Lesser received a blue ribbon, the equivalent to second place at the fair.
"I'm happy with it. I thought I'd do worse," Lesser said.
All the livestock to be judged in the fair had to be entered into the appropriate barn before 9 p.m. Tuesday.
Fifteen-year-old Kaleb Horne and his brothers, Ethan, 12, and Colton, 9, of Baldwin, said they were looking forward to showing their cattle. The brothers had been setting up since Saturday.
"We'll be here by at least 7 a.m. every day this week," Kaleb said.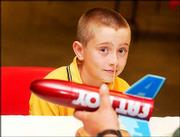 Earlier in the day, Douglas County Commissioners Jere McElhaney and Bob Johnson, along with County Administrator Craig Weinaug, were the first group of judges for the pie-baking contest, which will be at 9:30 a.m. every day of the fair.
McElhaney, Johnson and Weinaug tasted five pies and selected the top three. Doug Rich, president of the Douglas County Fair Board, then made the final judgment.
"First place was peach, second place was bumbleberry and third place was chocolate chip pecan," Rich said. "This is definitely a perk of the job."
The Reed Carnival also opened Tuesday night.
7:30 a.m.-9:30 a.m.: Accept president's pie baking entries, Fair Board office, Building 21S8 a.m.: Open class foods judging begins, 4-H and open class horticulture and crops judging begins8 a.m.: Dairy goat show, judging arena8:30 a.m.: Poultry show, poultry barn8 a.m.-10 a.m.: Swine weigh-in10 a.m.-1 p.m.: Food sale begins, Building 21 kitchenNoon-1 p.m.: Beef weigh-in1 p.m.: Buildings open to the public1 p.m.-9 p.m.: Petting zoo and pony rides, Building 106 p.m.-11 p.m.: Reed Carnival Family Night6 p.m.: Naturally nutritious food festival, Building 21N6 p.m.: Swine show in judging arena, showmanship classes, breeding gilts, market hog show6 p.m.-9 p.m.: Douglas County shooting sports, air rifle shoot, black top area7 p.m.-10:30 p.m.: Musical performance by "Cubby Land and The Secrets," black top area7 p.m.: Draft horse pull in Rodeo Arena.
Copyright 2018 The Lawrence Journal-World. All rights reserved. This material may not be published, broadcast, rewritten or redistributed. We strive to uphold our values for every story published.