An activity for residents at a Lawrence retirement community will pay dividends throughout the coming school year for some much-younger Douglas County residents.
Pioneer Ridge Retirement Community residents filled 20 backpacks with school supplies Tuesday morning. The supplies are for needy children in Lawrence and Eudora.
"This is just wonderful," said resident Charlotte Hamilton. "I think the children will be tickled to death."
Residents stuffed the backpacks with notebooks, pencils, markers, scissors, erasers and crayons. The supplies were donated by businesses such as McDonald's, Office Depot, Target and Wal-Mart.
Pioneer Ridge activities director Tami Klinedinst said the project, called Footprints, began about a year ago when she sent letters to area businesses requesting donations.
She said personal experience helped interest her in doing the project.
"I was a single mother, and it is hard to buy the supplies when you're on a limited income," Klinedinst said.
She said she would like to see the program continue and grow. Klinedinst said Pioneer Ridge would have a party at 3 p.m. Aug. 7, when students come to pick up their backpacks.
The school district appreciates programs that help families with school supplies, said Tom Christie, executive director of educational programming and curriculum for Lawrence public schools.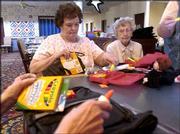 Community service agencies including ECKAN, Penn House and Ballard Center are working to assure that more than 1,000 children receive supplies.
"To a certain extent, we try to minimize the list of basic supplies a student needs and make it equitable," Christie said. "Obviously, some students may be able to afford different products."
Curves For Women is conducting a "Back to School Backpack" drive. People can take backpacks filled with school supplies for any child, kindergarten through 12th grade, this week to Curves, 2104 W. 25th St. The backpacks will be given to agencies that will distribute them.For more information, call 841-1431. To get a full listing of supplies needed, go to www.usd497.org/parents/supplies.cfm.
Copyright 2018 The Lawrence Journal-World. All rights reserved. This material may not be published, broadcast, rewritten or redistributed. We strive to uphold our values for every story published.