Baghdad, Iraq — Militants announced they were holding four new hostages but freed a senior Egyptian diplomat, amid their escalating campaign to force U.S.-allied countries and foreign contractors to flee Iraq.
In other violence Monday, an Iraqi government official was gunned down by assassins outside his Baghdad home, and a suicide car bomb packed with explosives, mortars and rockets exploded outside a U.S. base in the northern city of Mosul, killing a three Iraqis and injuring three U.S. soldiers.
Suicide attacks, assassinations, roadside bombs and abductions have been persistent tactics in the 15-month insurgency sowing chaos across Iraq. Kidnappings have escalated, however, since the Philippines last week met militant demands and withdrew troops to save the life of a Filipino truck driver.
Egyptian Mohammed Mamdouh Helmi Qutb, the militants' highest-ranking captive, was abducted three days ago. His kidnapping was followed by censure from leaders in Iraq and the Arab world for excesses including beheadings, and it was possible the criticism factored in the diplomat's swift release.
An Egyptian Foreign Ministry official said Qutb was released after negotiations and was in good condition at the mission's headquarters. His captors said in a statement on the pan-Arab television station Al-Jazeera that they had decided to free Qutb because he was a good religious man and had good morals.
Militants said they had taken the diplomat to deter Egypt from sending security experts to help the new Iraq government, and his abduction seemed to signal that insurgents were seeking higher-value targets.
Many of the more than 70 people abducted in Iraq have been truck drivers, more vulnerable than heavily armed military troops as they bring essential goods and materials into the country.
Since Filipino truck driver Angelo dela Cruz was freed Tuesday, separate militant groups have kidnapped three Kenyans, three Indians and one Egyptian working for a Kuwaiti company. Two different groups announced Monday they were holding two Pakistanis and two Jordanians, and threatened to kill them if their companies continue working in Iraq.
"We've seen since the Philippines government acceded to the demands of the terrorists a whole spate of new hostage taking," Australian Foreign Minister Alexander Downer said. "And I'm afraid that's what inevitably is going to happen in those circumstances."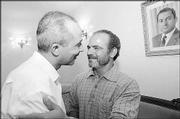 George Sada, spokesman for Iraqi interim Prime Minister Ayad Allawi, also expressed regret at the Philippines' decision: "We think that to bow to the terrorists' threats is the wrong policy."
In the Mosul bombing, a suicide attacker detonated the explosives-packed Chevrolet about 50 yards from the gate of the U.S. base. Three Iraqis standing nearby, a woman, a child and a guard, were killed, and three U.S. soldiers and two other Iraqi guards were wounded, said U.S. military spokeswoman Capt. Angela Bowman.
In Baghdad, gunmen killed Col. Musab al-Awadi, the Interior Ministry's deputy chief of tribal affairs, and two of his guards, according to an Interior Ministry spokesman.
Copyright 2018 The Associated Press. All rights reserved. This material may not be published, broadcast, rewritten or redistributed. We strive to uphold our values for every story published.