Lansing — After the Lawrence Raiders put their backs to the wall Sunday, they solved the crisis by blasting baseballs over it.
The nightcap to a long day of baseball saw a spectacular power display from the Raiders -- one sweet enough to send the team to Chanute for the American Legion Class AAA state tournament.
After falling to Lansing, 8-7, to force another elimination game, Lawrence beat Lansing, 12-5, in the do-or-die championship game of the Zone 1 tournament Sunday night thanks to a strong pitching performance by Matt Wingert and three momentum-shifting home runs.
At 34-15, the Raiders will defend their state title starting Thursday in Chanute.
"It's a good feeling," catcher Chris Coleman said. "It's an expectation that we have as a Raiders team -- to make it through zone and compete at state."
Lansing (17-9) jumped to a 3-1 lead after one inning in the championship game, then saw just how damaging a home run -- even a solo shot -- can be. Tyson Corley drilled an offering from Cody Mohan over the left-field fence to bring the Raiders within one at 3-2.
The dinger did much more than that, though. Corley's shot also was a shot in the arm for Lawrence, and it was followed by the next three runners reaching base, one scoring on an error and another on a Tyler Blankenship sacrifice fly, putting the Raiders up 4-3.
They'd never trail again, and a powerful fifth inning made it a certainty. With one out, Jake Hoover and Coleman blasted back-to-back homers on consecutive pitches, sparking a four-run inning that gave Lawrence the cozy 9-4 lead.
From there, Wingert cruised. He pitched three more innings after the homers gave him breathing room, and struck out four batters, allowing just three hits and one irrelevant run to earn the victory.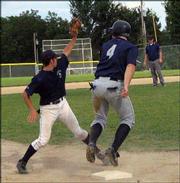 "I just wanted to go out there and hurry up," Wingert said, "so they could score more runs for me."
The Raiders added another run in the seventh on an RBI single by Paul Metzler, and two more in the ninth on a throwing error. Joe Crane relieved Wingert in the ninth and shut the Huskies down 1-2-3 -- another strong pitching performance from the Raiders this weekend.
"It's a very good situation," Raiders coach Reggie Christiansen said. "That was Wingert's best outing of the year. He competed, threw strikes, and got us into the eighth inning."
The Raiders began the three-game day with a 3-1 victory over top-seeded Blue Valley behind a tremendous pitching performance by Aaron Madill and two RBI hits by Taylor Martin. After Lansing eliminated Blue Valley with a 1-0 victory, the gung-ho Huskies came out with emotion in the first game against Lawrence.
Needing to beat previously unbeaten Lawrence twice in the double-elimination tournament, Lansing came from behind to top the Raiders, 6-5, and scored the last run in the ninth inning on an RBI groundout by Tom Kohl.
That made another nine-inning game necessary, but the Raiders finally took care of business to advance to state.
"The only positive of today is that we got to play an extra game," Christiansen said. "The guys got the chance to get four or five more at-bats."
The Raiders will hold batting practice Monday and Tuesday and a full practice Wednesday before departing for Chanute. They'll play Hays at noon Thursday, a team they beat 4-0 at the Al Ice Memorial Woodbat Classic in June.
Copyright 2018 The Lawrence Journal-World. All rights reserved. This material may not be published, broadcast, rewritten or redistributed. We strive to uphold our values for every story published.