Photographer: Thad Allender
Camera: Nikon D1H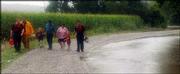 Lens: 60mm
ISO: 800
Shutter: 1/125
Aperture: f 5.6
Rain is the bane of most photographers. It can transform a superb image into a kaleidoscope of muted colors; it can seep through the best "water-resistant" gear and short-circuit your camera. Worst of all, it's relentless, unapologetic and consistently irritating.
But when the rain began to fall ... and fall ... and fall last month in Lawrence, I was positive I was prepared for the worst. I had a large umbrella, two protective "water-proof" camera jackets, towels and a raincoat made of nylon and polyamide. I felt like a walking zip-lock bag.
It became apparent after my first 15 minutes shooting in the rain that it was going to be a long, wet day. Two of my three lenses soon fogged over in the 100 percent humidity. Then one of my camera bodies quit firing. As I headed to the scene north of Lawrence where three people had become stranded in their home because of flood waters, I realized that the only functioning lens was a 60 mm macro, which is made primarily for shooting up-close detail shots. And just as I began to shoot, it too began to fog over. I made a few photos in the rain practically guessing where to focus and how to calculate my exposure. The photo was one of a few salvageable photos from the flood, which ran on page 1A the next day.
All "water-proof" camera gear in the world is useless, I discovered, unless the operator exerts a little forbearance in the eye of a storm.
Copyright 2017 The Lawrence Journal-World. All rights reserved. This material may not be published, broadcast, rewritten or redistributed. We strive to uphold our values for every story published.