Four years ago, Douglas County was one of presidential candidate Ralph Nader's biggest supporters. About 10 percent of the vote here went to the longtime consumer advocate.
The support is still there for Nader in his 2004 presidential bid, but his allies say they don't expect him to get as many votes this time around.
The reason? Four years of George W. Bush as president.
Since Bush's victory in 2000, Nader has been under heavy fire from some who accuse him of costing Democrat Al Gore the presidency by siphoning off left-leaning voters in key states.
Nader denies the allegation, but Richard Heckler, of Lawrence, said he didn't want to take any chances.
"The stakes are high," said Heckler, who voted for Nader in 2000. "Four more years of George Bush would be detrimental to the country."
Heckler said he intended to vote for presumed Democratic nominee U.S. Sen. John Kerry.
Marie Stockett, of Lawrence, said she was drawn to political activism by Nader and his work, but even Stockett said she was considering abandoning Nader in the voting booth this November.
"I love Ralph Nader and what he stands for and think he is the best candidate running, but I'm not sure how I am going to vote yet," Stockett said.
"It's going to be hard for me to vote for Kerry because I don't believe in everything he stands for. I agree with Nader's values, but I don't want Bush to be elected either. I'm kind of in a quandary," Stockett said.
Kevin Zeese, a spokesman for the Nader campaign, said he heard a lot of similar comments on the campaign trail.
"There's a lot of Bush fear, and fear of terrorism. Unfortunately the campaign is dominated by fear," Zeese said. "We need to end the fear and get people to vote for who they believe in."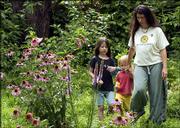 He urged Nader supporters in Kansas to follow through and cast their ballots for Nader. Zeese said that the state's six electoral votes probably would go to Bush anyway because the state is dominated by Republicans.
"Kansas is not a battleground state," Zeese said, though he noted that Kansas Gov. Kathleen Sebelius, a Democrat, was elected in 2002.
Kerry supports a lot of positions that Nader doesn't, including maintaining troops in Iraq, international trade agreements and the No Child Left Behind Act that calls for increased testing and sanctions in public schools, Zeese said.
"The only wasted vote is a vote you don't believe in," he said.
Not Nader
But if Kerry stands apart from the positions of Naderites, Nader is light years away from the party label he will probably run under on the Kansas ballot: the Reform Party of Kansas.
"The national party endorsed Nader. The Kansas Reform Party is not too happy about that," said Joseph Martin of St. Marys, chairman of the Kansas Reform Party executive committee.
"I am not encouraging anyone to vote for Nader. He is in complete opposition to our state platform," Martin said.
The Kansas Reform Party's platform includes banning homosexuals from the military, stopping immigration for 10 years, and designating English as the official language of the United States.
Zeese, however, pointed to parts of the party's platform that Nader agrees with, such as its opposition to international trade agreements and the war in Iraq.
"They didn't ask us to change our views. We are running on Ralph's platform. This is an effective challenge to the two corporate parties," he said.
Nader was endorsed in 2000 by the Green Party, and he appeared on the ballot in Kansas as an independent because the Green Party was not recognized by the secretary of state's office.
This year, the four recognized parties on the ballot in Kansas are Republican, Democrat, Libertarian and Reform. This year, the Green Party rejected Nader, while the national Reform Party threw its support behind him.
Zeese said the Nader camp soon would get Nader on the ballot under the Reform Party banner in time for the Nov. 2 election.
Though unsure if she will vote for Nader, Stockett said she was still glad he was running.
"He is giving attention to a whole set of issues that wouldn't be getting attention otherwise. We shouldn't be in Iraq, that's kind of the main one. We need to have a more nonviolent approach toward dealing with the world and more concern about our environment," she said.
Copyright 2018 The Lawrence Journal-World. All rights reserved. This material may not be published, broadcast, rewritten or redistributed. We strive to uphold our values for every story published.