Lawrence's biggest thrift shop is looking for a new home.
"We're not leaving Lawrence, but we'll be leaving this building," said Tom Dooley, marketing vice president for Helping Hands of Goodwill Industries, the Kansas City, Mo.-based charity that operates the secondhand store at 2200 W. 31st St.
Dooley said the 14,800-square-foot building's tax obligation made it an impractical location for a thrift shop.
"We bought the building in 1995, but didn't open until about three years ago," he said. "Of course, since then there's been all kinds of development."
Nearby development at 31st and Iowa streets has included Home Depot and Best Buy stores near the intersection's northeast corner, and a handful of other new retailers in Pine Ridge Plaza, on the southeast corner.
Lawrence-based Peoples Bank this spring purchased long-vacant ground directly east of the Goodwill building where it is planning to build a branch.
Dooley said taxes on the building recently increased to "a little over $2 a square foot," prompting Goodwill to enter negotiations with Henzlik-Oliver Real Estate, an Overland Park-based company that plans to develop the site.
"The sale has not closed yet," Dooley said. "But it's pending."
It wasn't immediately known what redevelopment plans the real estate company had for the building, which originally housed 84 Lumber and was renovated by Goodwill in 2001.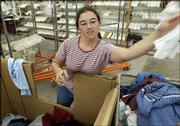 The property has an appraised value of $964,300, according to the Douglas County Appraiser's Office, up from $950,000 a year ago.
Dooley said Henzlik-Oliver had agreed to let Goodwill remain in the building for as long as it takes the organization to find a new location.
"It may be three months, it may be two years. We're not in a rush," he said. "As long as we're looking, we'd like to find a place that's similar in size. We'd like it to have a dock, a place for a trash compactor and easy access from the street."
Goodwill is a tax-exempt, nonprofit organization dedicated to creating job opportunities for people who are disadvantaged or have disabilities.
Though part of a charity, Dooley said the Lawrence store was expected to pay taxes because its sales were not considered a "mission-based activity" under the law.
Last year, the 20-employee store grossed more than $625,000 in sales.
Copyright 2018 The Lawrence Journal-World. All rights reserved. This material may not be published, broadcast, rewritten or redistributed. We strive to uphold our values for every story published.