Baghdad, Iraq — The Philippines announced plans today to withdraw its peacekeepers from Iraq, an apparent effort to meet the demand of kidnappers threatening to kill a captive Filipino truck driver.
Such a pullout by one of Washington's biggest backers in the war on terror would be a major blow to the unity of U.S.-led coalition in Iraq.
The announcement came hours after militants in Iraq said they had killed a captive Bulgarian truck driver and threatened to put another hostage to death in 24 hours, Al-Jazeera television reported early today.
"The Foreign Affairs Ministry is coordinating the pullout of the humanitarian contingent with the Ministry of National Defense," a government statement said. "As of today, our head count is down from 51 to 43."
The government has been vague on many of its comments on the kidnapping, and it wasn't immediately clear whether the statement meant that such a withdrawal had already begun or if it would include all its troops.
There was no immediate U.S. comment to the latest announcement, but U.S. officials earlier had expressed displeasure that Manila was even considering caving in to the kidnappers' demand, a position echoed by Australia and Iraq's new interim government.
A deadline set by the Iraqi Islamic Army-Khaled bin Al-Waleed Corps for the Philippines to meet the group's troop withdrawal demand expired early Tuesday, but negotiations continued in Iraq through intermediaries.
The insurgents had told President Gloria Macapagal Arroyo that Angelo dela Cruz, a poor father of eight, already had been moved to the place where he would be killed if she didn't change her mind.
The Bulgarians were abducted by Jordanian militant Abu Musab al-Zarqawi's Tawhid and Jihad group. The militants said last week that they would kill the two truck drivers if the United States did not release all Iraqi detainees by last Saturday.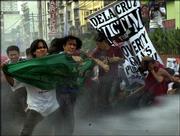 The group earlier claimed responsibility for beheading of American businessman Nicholas Berg and South Korean translator Kim Sun-il. It is also blamed for attacks that killed 100 people ahead of the transfer of power to Iraqis last month.
In a video broadcast on Al-Jazeera, the group said it had carried out its threat against one of the Bulgarians and would kill the other in 24 hours.
Three men with their faces covered by black masks stood over a kneeling hostage, identified by reporters as Georgi Lazov, 30.
The video contained the killing, but it was not broadcast because it was too graphic, said Al-Jazeera spokesman Jihad Ballout. He declined to say how the killing was carried out.
Bulgaria identified the other hostage as Ivaylo Kepov. The two were kidnapped while traveling to Mosul in northern Iraq. They were last heard from June 29.
"The only thing we can do now is to continue our efforts to save the second man and pray during the next 24 hours that he will stay alive," government spokesman Dimitar Tsonev said.
Bulgaria, which has a 480-member infantry battalion in Iraq, had sent diplomats to Iraq to try to negotiate the men's freedom.
Also, an insurgent group holding an Egyptian driver demanded today that the Saudi company he works for pull out of Iraq within 72 hours, Al-Jazeera reported. The group did not issue a specific threat.
Copyright 2018 The Associated Press. All rights reserved. This material may not be published, broadcast, rewritten or redistributed. We strive to uphold our values for every story published.