Well, what fun is a victory without a few dramatics involved?
The Lawrence Outlaws now know. They'd much rather have a big, clean win.
Friday's 12-11 victory over Lansing at the Outlaw Tournament at Free State High was anything but clean, and despite improving to 2-0 in round-robin play, nobody on the team exactly was feeling especially great after squeaking it out.
"We're extremely disappointed," coach Matt Schubert said, "even with the win."
It's understandable. The Outlaws (20-10) took a 7-0 lead after the first inning and appeared to be on cruise control from then on.
One problem: There was a lot of baseball left to be played.
Down 10-3, Lansing charged back, scoring five in the fifth inning to make it 10-8. In the seventh, with Lawrence needing one out to claim the victory, Lansing instead cleared the bases with a three-run double, and the Outlaws suddenly were down 11-10.
"We scored seven runs, but after that, we might as well have not even been here," Schubert said. "That's disappointing, because this team is so talented."
However it happened, the Outlaws woke up. In the bottom of the seventh, Cory Cooper led off with a walk and was followed by a Matt Falk single. Falk was picked off after making a base-running blunder, but the defense's diverted attention allowed Cooper to sneak into third and then score on a throwing error.
With the score tied, Travis Hart walked, stole second and advanced to third on a balk. After intentional walks were given to Mitch McPherson and Jake Landis, Schubert called on Cole Massey to pinch hit and make something happen with one out.
Massey answered, hitting the first pitch to right field, deep enough to score Hart on the sacrifice fly.
"I didn't want to do too much all at once," Massey said. "Maybe a base hit up the middle or a fly ball. That's all you need."
Just like that, what could have been a miserable defeat instead became an uneasy victory. Regardless, an ugly win beats any sort of loss every time.
"We've done this a few times this year," Schubert said. "We've seemed to escape it everytime. I don't think our luck can run much longer. I wouldn't count on it, anyway."
With the victory, the Outlaws will have a chance to play for the tournament championship Sunday. First, they'll have to beat Topeka Post 400 during the last day of round-robin play.
The Outlaws haven't beaten Topeka in three tries this season.
Game time is at 8:15 tonight at Free State.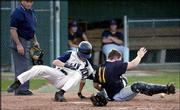 Copyright 2018 The Lawrence Journal-World. All rights reserved. This material may not be published, broadcast, rewritten or redistributed. We strive to uphold our values for every story published.