When Alex Brunfeldt stepped onto the starting block Friday morning for his 800-meter freestyle race at the Roger Hill Invitational Swim Meet, it was all but a foregone conclusion he would win.
Brunfeldt, a 2004 Free State High graduate and five-year member of the Lawrence Aquahawks, boasted an entry time 33 seconds faster than the second-seeded swimmer in the race.
He won by 50 meters, but that wasn't the point of Brunfeldt's race.
The significance of his participation Friday was that Brunfeldt -- an Indiana University signee who set the state record in the 500 freestyle this year -- might be one of the most dominating Kansas high school swimmers, but he still hasn't outgrown the Aquahawks.
"It has almost everything to do with the way I've been training," Brunfeldt said of his success under Aquahawks coaches Mike Soderling and Scott Bliss. "I've trained with Mike and Clark (Kansas University coach Clark Campbell) and Scott Bliss, and they've really pushed me."
Brunfeldt knows he can be pushed further still.
That's why he's still in Lawrence instead of Bloomington, Ind., where he could have gotten an early jump on college life.
Brunfeldt will race the 1,650 freestyle and 500 freestyle for the Hoosiers, but first he's concentrating on training for the national championships in early August in College Park, Md.
"Today I just wanted to go as close to my best time as I could," he said. "My best was 8:37, and I went 8:40, so three seconds off isn't bad. There's nobody really to race, but it's still fun. Mainly what I do is I race the clock"
Soderling said Brunfeldt's continued presence with the Aquahawks was a valuable asset for the younger swimmers in the club because Brundfelt treated every day of practice as though it were race day.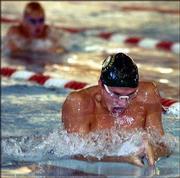 "The way he looked today in the 800," Soderling said, "he looks that way every day in practice. He's a leader in and out of the water."
Soderling said Brunfeldt was not afraid to challenge himself in unfamiliar events, either. His comfort zone is in the distance events, where he can capitalize on his superior endurance.
But sprint events? That's another story.
"When he gets into nationals-level competition, he's tops in that," Soderling said, "but when you throw him into the shorter events, his weakness shows up."
Brunfeldt raced in the 50 freestyle and 200 individual medley during the evening session and didn't take gold in either event. He was a distant ninth in the 50 free, but set a career-best time while finishing third in the 200 IM behind Aquahawk teammates Anthony Portela and Chris Sellon.
"That's good to see for our team" Soderling said, "because it shows we have depth."
It also gives Brunfeldt added incentive to hang around the water this summer before reporting to Indiana on Aug. 25.
"I've just been swimming. I haven't done much else this summer," he said. "When I do have some free time, I go to the lake with my friends or hang out at the pond in my back yard."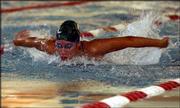 Copyright 2018 The Lawrence Journal-World. All rights reserved. This material may not be published, broadcast, rewritten or redistributed. We strive to uphold our values for every story published.