This time, Carl Madison vows he means it.
Madison, 73, stresses he will positively retire from high school football coaching following the 2004 season.
"This will be my last year, win or lose," Madison said. "Then my wife and I are going to take off and travel."
Madison, head coach of the West squad in Saturday's Native American All-Star football game at Haskell Stadium, first gave up high school coaching in 1999.
Madison had compiled an impressive 301 victories when he retired from Milton (Fla.) High that year, but two years later he was coaxed out of retirement to take over a woeful program at Jackson Academy, a tiny private school in Alabama.
All Madison did there was take a team that had compiled an 0-10 record in 2001 to a Class A state title in 2002. For an encore, Madison won a state title again in 2003, compiling a 12-0 record.
Jackson is about 120 miles from Madison's home in Florida, so the private school had lured him, in part, by providing a rental home. Last year they gave him a motor home.
Now, he says, they're building him a house located in a nearby lake region.
"I'm sure they're doing it to try to make me come back next year," he said, "but I'm definitely going to retire after this season."
Retirement won't prevent him from coaching in all-star games, however. That's not his call, though. That's up to the Native American All-Star officials.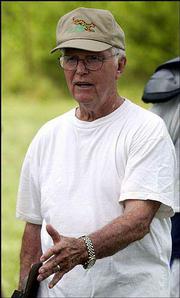 "I don't have any idea if they'd want me," Madison said, "but if they asked I would."
Why wouldn't they? Madison wins wherever he goes. In 1988, a Madison-coached high school team was named national champion by USA Today, and he was chosen coach of the year. He also was one of the coaches in the first national high school all-star game in 2000 in Dallas.
On a smaller scale, Madison was the winning coach in the first two Native All-American All-Star games. But that was then and this is now, and Madison clearly subscribes to the Lou Holtz School of Pessimism when asked about winning a third straight time.
"We don't quite have the people we've had in the past," Madison said. "We don't have dominating players like last year."
Madison was referring to Michael Martinez, a 5-foot-6, 180-pounder who played both ways and earned MVP honors, and to wide receiver Brigham Bert and defensive back Zach Mendez.
Martinez ran for one touchdown, caught a pass for another TD, intercepted two passes and had a sack. Bert caught six passes for 144 yards, including a 65-yard TD pass, and added a pass theft. Mendez intercepted two passes, returning one 33 yards for a touchdown. Bert and Mendez were named offensive and defensive players of the game respectively.
This year, Madison has two prototypical quarterbacks in 6-5 Courtney Tsingine and 6-3 Michael Watson.
"Both of our quarterbacks are supposed to be really good," Madison said, "but both are shotgun quarterbacks, and I don't like the shotgun."
Madison is an exponent of a run-oriented, ball-control offense so a third West win in a row may hinge on Madison's ability to turn Tsingine and Watson into field generals instead of free-wheeling flingers.
Kickoff for Saturday's game will be 7:30 p.m. at Haskell Stadium. Both teams were scheduled to conclude practices this morning. A pre-game dinner for both teams is on tap tonight.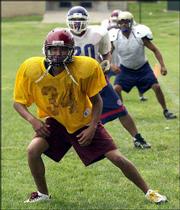 Copyright 2018 The Lawrence Journal-World. All rights reserved. This material may not be published, broadcast, rewritten or redistributed. We strive to uphold our values for every story published.