Jerusalem — Prime Minister Ariel Sharon on Thursday said he would open talks with the opposition Labor Party to form a broad coalition government, a union that would give the Israeli leader much-needed support as he pushes forward with his contentious Gaza withdrawal plan.
Sharon had been widely expected to invite Labor into the fragile Cabinet after hard-line opposition to the plan left him a minority coalition, thus threatening his political survival.
Meanwhile, in the worst violence since the Israeli army started an incursion into the Gaza Strip last week, soldiers on Thursday killed at least seven Palestinians, and two senior Israeli officers were wounded in an attack on an army jeep.
Addressing an economic conference in the coastal town of Caesaria, Sharon told the audience that he was "very satisfied" with his current government.
"But ... if it becomes apparent that (withdrawal) is not possible, then I will have to form a different coalition," he said, adding that he had scheduled a meeting Sunday with opposition leader Shimon Peres "to discuss the possibility of expanding the coalition."
Peres, a veteran of Israeli politics and a Nobel peace laureate, has sent mixed signals about his readiness to join the government.
While Labor has helped Sharon by blocking several attempts in Parliament to topple the prime minister through no-confidence votes, Peres has set some tough demands for joining the coalition.
Government officials said Sharon was serious about the meeting, although a senior official noted the talks were only preliminary.
By September 2005, Sharon plans to pull all Israeli troops from the Gaza Strip and the West Bank. He also plans to withdraw the 7,500 Jewish settlers who now live among 1.3 million Palestinians in Gaza, and residents of four isolated settlements in the West Bank.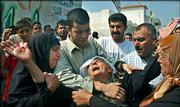 Copyright 2018 The Associated Press. All rights reserved. This material may not be published, broadcast, rewritten or redistributed. We strive to uphold our values for every story published.