Washington — President Bush has opened a slight lead over John Kerry while regaining the confidence of some voters on the economy and other domestic issues, according to an Associated Press poll with a silver lining for Democrats.
The addition of Sen. John Edwards to Kerry's ticket appears to have helped the Democrat in the South and among low-income voters -- a result the Massachusetts senator had hoped for when he selected the North Carolina populist over more seasoned politicians.
"I'm more impressed with Kerry now that he chose Edwards," said Republican voter Robin Smith, 45, a teacher from Summerville, S.C. "I look at Kerry and I don't trust him, but he's got Edwards, who's more middle-of-the-road, a strong speaker, more able to reach the common man."
The AP-Ipsos poll found Bush leading Kerry just outside the margin of error, with the president's support at 49 percent, Kerry at 45 percent and independent candidate Ralph Nader at 3 percent. The Bush-Kerry matchup was tied a month ago, when Nader had 6 percent.
The three-day survey began Monday, the day before Kerry tapped Edwards as his running mate, and asked registered voters about the newly minted ticket on Tuesday and Wednesday. Half supported the Republican tandem of Bush and Vice President Dick Cheney while 46 percent backed the Kerry-Edwards ticket, just within the question's margin of error.
Voters said they were feeling better about the economy and no worse about Iraq, a sign that Bush may be regaining his political footing just as Democrats make a high-profile push toward their nominating convention in late July.
"I want Bush in there, because the other guy is like sending a boy to do a man's job," said Glenn Foldessy, 45, of Streetsboro, Ohio, outside Cleveland. Foldessy, who usually votes Republican, said Edwards made the Democratic ticket stronger, but not strong enough.
"We have somebody now who's established and has things on track, and if we destabilize this government during the war on terror, that's playing right into the hands of the terrorists," he said.
Troubling signs for the incumbent remain, however, from the number of voters who believe the country is on the wrong track (56 percent) to his anemic, but improving, job approval numbers. Bush's overall approval rating hit 50 percent for the first time since January.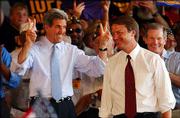 Copyright 2018 The Associated Press. All rights reserved. This material may not be published, broadcast, rewritten or redistributed. We strive to uphold our values for every story published.