The Lawrence Outlaws brought a little more than improved defense to the table Thursday to kick off the Outlaw Tournament at Free State High.
In fact, all three facets were alive and kicking in their 9-1 victory over Basehor -- good pitching, solid defense and abundant, timely hitting.
When all three are on cue, it's easy to leave the ballpark a winner.
"It was one of our better games in a while," Outlaws coach Matt Schubert said. "Defensively, offensively and pitching -- it was definitely a complete-game win."
And a badly needed one, at that. After Tuesday's less-than-desired loss to Pittsburg, where five errors made the difference, the Outlaws turned it around Thursday and put a nice round zero in the error column against Basehor.
To go along with it, the Outlaws (19-10) smashed nine hits and had a solid pitching effort from Rod Evinger, who struck out 10 batters in just five innings of work.
"He was hitting his spots real well tonight," outfielder Mitch McPherson said. "We helped him out on the defensive side, too, and that's something we really haven't been doing well lately."
Evinger struck out the side in order to start the game, and his offense supported him by scoring four runs in the bottom of the first. Aaron Westerhouse and Will Falk each had RBIs, and Matt Falk poked a two-run single that gave Evinger plenty of breathing room.
Westerhouse finished 3-for-3 and knocked in a pair of runs. Twice he drove in McPherson, the Outlaws' speedy leadoff hitter who singled, tripled, walked, scored three runs and drove in two more.
In all, the Outlaws had 18 baserunners, constantly putting insurmountable pressure on the Bobcats.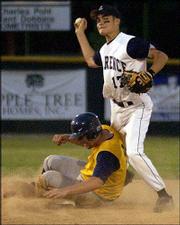 "We got a lot of guys at the top of the lineup that do that," Schubert said. "Mitch, Jake (Landis) and Aaron all get on base a lot and don't strike out very much. They put the ball and play and are pretty quick."
The win puts the Outlaws at 1-0 in their own tournament, with two more round-robin games left. Today, the Outlaws will play the last of four games at Free State, at 8 p.m. against Lansing. They'll then play Topeka Post 400 at 8:15 p.m. Saturday.
The tournament finals will take place Sunday.
"You always want to win the first one because it sets the tone for the rest," Schubert said. "You're not going to be playing from behind and hoping someone else gets beat."
Outlaws 9, Basehor Bobcats 1
Basehor 000 10 -- 1 3 4
Outlaws 412 02 -- 9 9 0
W-- Rod Evinger. L-- Brandon Beebe.
Outlaws highlights: Aaron Westerhouse 3-for-3, 2 RBI; Mitch McPherson 2-for-3, 3B, 3 R, 2 RBI; Jake Landis 2-for-4, R, RBI; Rod Evinger CG, 3 H, 10 K.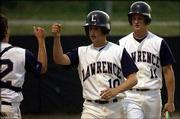 Copyright 2018 The Lawrence Journal-World. All rights reserved. This material may not be published, broadcast, rewritten or redistributed. We strive to uphold our values for every story published.