Toronto — Bruno Junqueira is getting tired of finishing second.
Second place is where the Brazilian driver has finished the past two seasons in the Champ Car World Series, losing to Cristiano da Matta in 2002 and Paul Tracy last year.
And second place is where Junqueira has finished in four of the first five races of 2004.
His results this season, which also include a sixth-place finish, have been good enough, though, to put Junqueira in the series lead heading into Sunday's Toronto Molson Indy.
"Our team has been in a position to win this season, but it hasn't come yet," Junqueira said. "My goal is to win the championship with consistency, but it would still be nice to win some races."
Most of the winning this season has been done by his Newman/Haas Racing teammate Sebastien Bourdais. The second-year Champ Car driver from France has taken the checkered flag three times and trails Junqueira by three points -- mostly because Bourdais crashed and finished last in the June race in Milwaukee.
"We've been pretty consistent, too," he said. "We've won three of the last four races and I just hope we can keep it going."
Tracy won this race easily last year, leading every lap for one of his series-leading seven victories in 2003.
The defending champion got off to a good start this year, winning the opener in Long Beach. But he finds himself in need of a big day in his hometown after crashing at the start of last week's race in Cleveland and falling into a fifth-place tie with Ryan Hunter-Reay, who has the other race win this year.
Tracy, who also won the Toronto event in 1993, comes to town trailing Junqueira by 42 points.
"We need to finish some races and rack up some points," Tracy said. "We can't let those two Newman/Haas guys just run away and hide from us. So this weekend is really important."
Junqueira finished third here last year, while then-rookie Bourdais, getting his first look at the 1.755-mile temporary street course that winds through downtown Exhibition Place, came in fourth.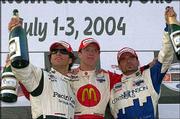 Copyright 2018 The Associated Press. All rights reserved. This material may not be published, broadcast, rewritten or redistributed. We strive to uphold our values for every story published.