A half-hour before Hong Kong native Kuok-Wai Lio bellied up to a Steinway grand to play in the finals of the International Piano Competition on Wednesday, he rested in his Lied Center dressing room, a picture of composure.
"I never compare to others; only to myself," he said. "The most challenging thing for me is to capture audience, both heart and mind."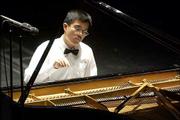 Mission accomplished.
Not only did Lio win one of two audience awards, but a panel of judges also awarded him first place in the contest, which will be an annual event at Kansas University.
"I never think of prizes," Lio said after the announcement. "I just compare myself to myself. I hope to be better than last time."
First place earns Lio $3,500, a trophy and a date to play tonight in a master class conducted by 2001 Van Cliburn gold medal winner Stanislav Ioudenitch.
The competition started Monday with 14 contestants, ages 12 to 17. Judges whittled the field to six finalists, who each played a 40-minute program, which could include all, some or none of their semifinal selections. The semifinal round required contestants to play 25 minutes of music from three musical periods.
Twelve-year-old Grace Ma won second place, as well as the prize for being the only performer under 14.
"I did my best," Ma said. "As long as I did my best, I feel good about it."
"I didn't expect to place," she said, noting the competition was stiff. "I'm just this little girl."
Eric Chang, 16, who took third place, was the first finalist to play. After his performance, he said he felt "OK."
"Competitions are difficult," the Palos Verdes, Calif., resident said. "It's inevitable that you'll feel like things could have gone better.
"The most important thing is to be happy with your own effort."
The second audience prize went to Daniel Suo, 16, of Lexington, Mass.
The competitors will remain in Lawrence for several more weeks, joining about 40 other young musicians from around the world who are participating in the International Institute for Young Musicians.
"I have been so, so impressed with these players," said finals judge Leonard Richter, a professor of piano at Walla Walla College in Washington. "I heard a 12-year-old playing the first day, and I nearly fainted.
"These kids have musicality and technical skills beyond their years."
Richter also offered high praise for the first-year competition.
"I have judged many contests, and this one is very impressive in comparison," Richter said. "The quality of competition is very high, and things have run smoothly."
Scott McBride Smith, president of the International Institute for Young Musicians and a KU alumnus, agreed, saying the competition had gone off without a hitch.
"I can finally breathe," he said.
The event has been thrilling for audiences, as well, who have watched all performances for free. Barbara Wunsch, a member of KU's Fine Arts Advisory Board, attended Wednesday's evening session.
"When you see this much talent from such young people," she said, "it's exciting to think what the future of the world holds."
Kuok-Wai Lio, winner of the first Kansas International Piano Competition at Kansas University, will play during a master class with 2001 Van Cliburn gold medal winner Stanislav Ioudenitch at 6:30 p.m. today at Swarthout Recital Hall in Murphy Hall. The class is free and open to the public. Wednesday's contest kicked off the three-week International Institute for Young Musicians. Gala recitals, featuring students in the institute who will be selected from auditions, will be at 7:30 p.m. July 14 and July 21 at the Lied Center. Both concerts are free and open to the public.
Copyright 2018 The Lawrence Journal-World. All rights reserved. This material may not be published, broadcast, rewritten or redistributed. We strive to uphold our values for every story published.