Minneapolis — Kyle Lohse didn't let his fellow Minnesota Twins starters down.
Lohse threw Minnesota's team-record third-straight complete-game shutout, hurling a 12-0 victory Wednesday night over crumbling Kansas City.
"You don't want those kind of thoughts to cross your mind, but you obviously don't want to be the guy to give it up," said Lohse, whose six-hitter came after Brad Radke tossed a four-hitter and Johan Santana turned in a three-hitter to start the series.
This was the first time in the Twins' 44-year history they've shut out an opponent in three straight games, and the streak of 27 scoreless innings is a franchise high.
The Baltimore Orioles were the last major-league club with three consecutive complete-game shutouts, when Mike Mussina, Scott Erickson and Kevin Brown did it in September 1995.
"Everybody's going to look like Cy Young right now, the way we're swinging," said Dee Brown, who had three hits for the Royals. Kansas City has lost eight in a row and 13 out of 14, scoring one run in their last 37 innings. After a day off today, Kansas City plays a weekend series at Baltimore.
"Mentally, this ballclub is beat," manager Tony Pena said. "It's a tough time, but these kids are trying."
Rookie Joe Mauer had his first career four-hit game, and Minnesota's first five batters -- Cristian Guzman, Lew Ford, Mauer, Corey Koskie and Torii Hunter -- went 14-for-21 and scored all 12 runs. Hunter and Matthew LeCroy each had three RBIs.
"It was a very enjoyable ballgame from my office," said a smiling manager Ron Gardenhire, who was ejected in the second inning.
Lohse (3-6) won for just the second time in his last 15 starts, getting more run support than he had in all of June. In five starts last month, the Twins scored a total of five runs while he was in the game.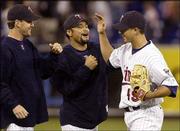 This was his fourth career complete game and third shutout. He struck out seven and walked none, fighting through soreness in the right knee he had surgery on before the 2003 season.
"I've been working hard all year and things haven't been working out," Lohse said. "Hopefully it gets me going."
Hard work? Minnesota's bullpen can't relate to that. Nobody has pitched since Sunday afternoon.
"We're not showing up tomorrow," joked J.C. Romero. "We're just going to tell Gardy to call us on our cell phones."
Royals starter Dennys Reyes (2-4) got only three outs and was replaced by Justin Huisman after hitting Koskie with a pitch in the second. Reyes gave up six hits, six runs -- four earned -- and one walk.
Five batters were hit in this game, two by Lohse in the first. After LeCroy's two-run double put the Twins up 4-0 in the bottom half, Reyes hit Michael Cuddyer in the ribs -- prompting a warning for both benches by home plate umpire Chris Guccione.
After a run-scoring single by Mauer in the second, Reyes hit Koskie in the back and yelled at himself in frustration. Gardenhire thought Reyes should have been ejected, but he was the one who got tossed for arguing with Guccione.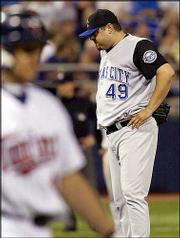 "I was trying to throw in, and the ball got away from me," Reyes said. "I already have enough problems to hit people."
The Royals had plenty of chances to end their scoreless streak -- putting two runners on in four of the first seven innings.
Brown and Tony Graffanino hit consecutive one-out singles in the seventh. But Lohse struck out rookie John Buck and Damian Jackson to end it.
"This is crazy," Brown said. "It has to get better."
Notes: Huisman was charged with three runs in 2 2/3 innings, raising his ERA to 6.75. In his last 13 2/3 innings, he's given up 26 hits and 15 earned runs. ... Royals 1B Mike Sweeney sat out his sixth straight game because of a stiff back. ... Twins 1B Doug Mientkiewicz was scratched from the lineup because of a bad bruise sustained when a batting-practice ball hit by teammate Luis Rivas struck him squarely on the left wrist. ... Gardenhire, halfway through his third season, has 13 career ejections. ... Mauer is batting .500 (16-for-32) in his last eight games. ... All of Lohse's wins have come against Kansas City.
Copyright 2018 The Associated Press. All rights reserved. This material may not be published, broadcast, rewritten or redistributed. We strive to uphold our values for every story published.