Having been around summer baseball for nearly 30 years, Tim Hill pretty much has seen and heard it all.
That's why the veteran coach decided to keep quiet Wednesday night when the Lawrence Raiders dropped their first game of a doubleheader, 6-2, to St. Joseph (Mo.) Post 359 at Free State High.
Hill was filling in for head coach Reggie Christiansen, who was out of town for "personal matters." Hill said the team understood his message through his silence instead of a good scolding.
Apparently the Raiders did, because in the second game they scored a whopping 15 runs in the second inning and easily defeated St. Joseph, 19-1.
"Wow," a wide-eyed Hill said after the game. "I've seen a lot of baseball, but I'm not quite sure I've even seen that many runs. Coach might have been glad he wasn't here for that first one, but he missed an exciting finish."
The night didn't start well. Seven different Raiders recorded hits in the first game, but St. Joseph reliever Mitch McAndrew changed speeds and locations to keep the Raider hitters guessing.
That wasn't the story in the second contest, where nine different Raiders recorded hits -- and that was just the second inning. At one point 14 different Lawrence batters came to the plate between outs as the Raiders batted around more than twice through their lineup.
"That was fun," said Dominick Harrell, who began Lawrence's scoring with a two-run homer over the scoreboard in left field during the first inning and was 2-for-2 in the huge second inning.
"We were really due. I just think a lot of the guys were kind of embarrassed with how we played in that first game. We definitely had something to prove."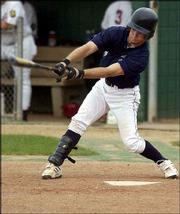 Brett Lisher was the only other player to go 2-for-2 in the inning, but several Raiders reached base via walks. More than a handful scored twice, but Chris Coleman and Tyson Corley provided the biggest offensive sparks.
Coleman slapped a three-run double, and Corley drove in three with a 2-for-3 performance in the inning. Aaron Madill, Taylor Martin, and Paul Metzler each accounted for two runs and two RBIs.
"It's pretty unbelievable, isn't it?" said Lisher, who also scored twice in the second. "We didn't really show up to play in the first one, but we sure did in the second inning of the second one."
Something which Hill said he was proud of, even if it took a slight setback before the Raiders "executed to their potential."
"I admire how they responded," Hill said. "I didn't really have to say anything after the first game, sometimes you just know. And they certainly knew what went wrong, and then made it right."
The Raiders (22-11) will play in the North Platte (Neb.) Invitational at 7:30 p.m. Friday.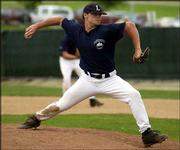 Copyright 2018 The Lawrence Journal-World. All rights reserved. This material may not be published, broadcast, rewritten or redistributed. We strive to uphold our values for every story published.