Tokyo — For nearly 40 years, Charles Robert Jenkins has been a wanted man, unable to leave his adopted home of North Korea for fear of being court-martialed for allegedly deserting his Army unit.
On Friday, that will change -- at least temporarily.
After months of intense negotiations, a jet chartered by the Japanese government is to whisk 64-year-old Jenkins out of the North Korean capital of Pyongyang. The plane will fly Jenkins and his two daughters to Jakarta, Indonesia -- and again out of the reach of American authorities -- for a reunion watched by all of Japan.
Japan's interest isn't in Jenkins but in his wife, who was kidnapped by North Korean spies in 1978 after shopping with her mother on the tiny islet of Sado off Japan's main island.
Her mother has never been accounted for. But Hitomi Soga was allowed to return to Japan with several other abductees after North Korean leader Kim Jong Il ended decades of denial and confessed during a summit in 2002 with Prime Minister Junichiro Koizumi that under his late father's leadership his country had carried out at least a dozen kidnappings.
Soga's husband, formerly of Rich Square, N.C., complicates her case.
Koizumi hoped to win the return of Jenkins and his daughters -- Belinda, 20, and Mika, 18 -- when he visited North Korea on May 22. But he failed in an hourlong meeting to persuade Jenkins to come to Japan, where he would almost certainly be turned over to American custody.
Responding to an outpouring of sympathy for Soga, the Japanese government negotiated a reunion in Indonesia, which has no extradition treaty with Washington. Soga flies today to Jakarta, and her husband the next day.
"I am happy for her," Koizumi said Tuesday. "I hope North Korea continues to demonstrate such sincerity in the future."
Koizumi's motives, however, have been questioned. Critics accuse him of speeding up the reunion to boost his plunging approval ratings before weekend parliamentary elections.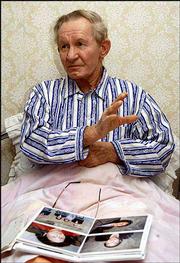 Officials deny it. "This is a humanitarian issue, not a political one," said Koizumi spokesman Hiroyuki Hosoda.
Washington is lukewarm.
Koizumi raised the dilemma with President Bush last month and got sympathy but no concessions.
Secretary of State Colin Powell also was firm.
"The Japanese are approaching this as a humanitarian issue, and we understand and accept that," he told reporters, but added: "Sgt. Jenkins is, of course, a deserter from the U.S. Army, and those charges remain outstanding."
Little is known about Jenkins' life in North Korea, or his motives for his 1965 defection from a unit near the Demilitarized Zone dividing the peninsula. He is known to have taught English and played an American villain in government propaganda movies. Soga, whom he met when she was a student in his English class, is 20 years his junior.
Soga has asked the media to keep their distance in Jakarta and restrict coverage to "officially sanctioned functions." Japanese officials say they want the couple to have weeks, even months, to decide their future in an "unhurried and quiet" atmosphere.
Barring a pardon from Bush, Jenkins reportedly wants to stay in North Korea. But before leaving Japan, Soga said she was confident she could convince her husband to join her here.
"My biggest concern is what may come after the reunion," she told reporters. "But I know we will eventually come back to Japan and live here."
Copyright 2018 The Associated Press. All rights reserved. This material may not be published, broadcast, rewritten or redistributed. We strive to uphold our values for every story published.