Galway, Ireland — The smoke of rebellion rose across Ireland on Wednesday as a handful of pubs let customers smoke in defiance of a government ban.
Health Minister Micheal Martin promised to punish the owners of Fibber Magees, a Galway pub that was the first to rebel against the 3-month-old ban, and any others joining the campaign.
Martin, who led the drive to outlaw smoking in enclosed workplaces, called the pubs' actions "an affront to the Irish people and an unacceptable defiance of the law."
"The full rigors of the law will be applied here ... and quickly," he said.
The anti-smoking law, the first imposed by any nation and a close copy of laws in California and more than a dozen U.S. cities, provoked strong opposition from owners of Ireland's 10,000-plus pubs.
But until this week, no pub publicly defied the government, partly because opinion polls showed strong support for the ban across the nation of 3.9 million.
The owners of Fibber Magees, a pub on Eyre Square in this nightlife-rich western city, says its business is off by two-thirds because of the smoking ban.
This week, owners Ciaran Levanzin and Ronan Lawless plunked ashtrays on upstairs tables and taped up a sign, "You are now entering a smoking area."
By text-message and telephone, frustrated smokers and others quickly spread the news of Fibber Magees' rebellion. By Tuesday night, and for the first time in months, the pub's upstairs room was packed and thick with smoke.
Lawless insists the gambit is the only way to make money. Otherwise, he says, he will be forced to close by September.
"We're damned if we do and damned if we don't," Lawless said. "We're either going to go out of business or be put out of business."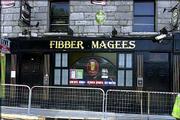 Lawless, who owns three other pubs, said he also would allow smoking in at least one of them. And a County Cork publican also said he was joining in.
Violating the ban can result in fines of up to $3,700 for customers caught smoking in a pub. For pub owners who flout the law, the penalty could be much worse: They could be fined $3,700 for each customer busted for smoking.
"I'll pay fines if they come to me," Lawless said. "I'm just making a stand for my livelihood."
Some publicans say Lawless' actions has emboldened them, too.
"It's part and parcel of Irish citizenship -- a pint and a smoke -- so let Micheal Martin go to hell," said Danny Brogan, who owns Brogan's pub in Cobh, County Cork, 130 miles south of Galway.
Brogan came to Galway to witness what he hopes will be the start of a spreading insurrection and stayed for a cigar. And he announced he was letting customers smoke in a back room of his pub.
Asked why he was willing to break the law, Brogan said 95 percent of his customers smoke.
"It's not breaking the law," he said. "It's survival."
Back in the downstairs section of Fibber Magees, smoking remained banned, and customers said they were upset by the lawbreaking above.
"I don't like to see it. It's a disregard for the laws of the state," said Dermot Hale, a nonsmoker who works in another pub. Hale sees the benefits of the ban: He no longer wakes up with a hacking cough and his clothes don't stink of smoke.
Across Ireland, the rebellion at Fibber Magees was the No. 1 topic of conversation. More than 10,000 callers flooded the switchboards of RTE, the state broadcasting network, to cast their vote in a phone poll or to go on the air with their opinions -- with views split pretty much down the middle.
The Vintners Federation of Ireland, which represents more than 6,000 pub owners, said the fines were too steep for it to take Fibber Magees' side against the government.
"We certainly wish Ronan (Lawless) luck -- he's a brave man," said Paul O'Grady, chairman of the federation's County Galway branch. "It's going to be interesting to see if there is an outbreak of smoking disobedience."
Copyright 2018 The Associated Press. All rights reserved. This material may not be published, broadcast, rewritten or redistributed. We strive to uphold our values for every story published.