Kansas City, Mo. — The city's push for a downtown arena gained a public boost Wednesday from Duke basketball coach Mike Krzyzewski and Kentucky's Tubby Smith.
The two spoke on behalf of the National Association of Basketball Coaches, which has already said it would establish a hall of fame for college basketball in the proposed Sprint Center and move its national headquarters there as well.
"Kansas City has had a rich, rich basketball tradition," said Krzyzewski, president of the NABC Foundation. "You've had a love affair with college basketball for decades -- nine Final Fours, numerous NAIA championships.
"It's not just a good choice," said Krzyzewski, who spoke at a downtown news conference along with Smith and former Missouri coach Norm Stewart. "It's the ideal choice."
A bond issue for the proposed $250 million arena, to be financed by city taxes on hotel rooms and car rentals, goes to voters Aug. 3.
Backers hope it will spur the long-term return of the Big 12 basketball tournament and attract more NCAA tournament games to the city, in addition to providing a possible venue for an NBA or NHL team.
There is already a Basketball Hall of Fame in Springfield, Mass., but Krzyzewski said the college game should have its own hall.
"This hall of fame will certainly work in partnership with them," Krzyzewski said. "But the National Basketball Hall of Fame, at this point in time, honors quite a bit the NBA."
The college group's vision is for a 60,000-square-foot facility with both display and interactive exhibits. The NABC would attempt to raise $10 million toward its construction.
Jim Haney, the NABC's executive director, said the group had raised more than $2 million toward that goal.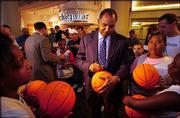 "All this would certainly be a place for Kansas Citians to be involved in and enjoy," Smith said, "but it also would become a place for people to visit from around the country."
Kansas City was host of the Big Eight tournament for 20 years and was the site of the first six Big 12 tournaments when the conference expanded.
The tournament moved to Dallas the past two years and will return there in 2006. Kansas City has the 2005 tournament, and the 2007 tournament will be played in Oklahoma City.
This past year, Kemper Arena was the site of the Mid-Continent Conference tournament and two rounds of the NCAA's St. Louis and East Rutherford regionals.
The city also was host of the NAIA national tournament from 1937 to 1993, and the organization itself from 1957 to 1993. The tournament returned in 2002, a year after the NAIA moved its headquarters from Tulsa, Okla., to the Kansas City suburb of Olathe, Kan.
The NABC, which has been based in Overland Park, Kan. -- another Kansas City suburb -- is in the process of moving to an interim location downtown.
Copyright 2018 The Associated Press. All rights reserved. This material may not be published, broadcast, rewritten or redistributed. We strive to uphold our values for every story published.