Sometimes the toughest recruiting job Eric Brock faces is convincing football recruits that federally funded Haskell Indian Nations University really has a campuslike atmosphere.
"From what they're accustomed to, they might think Haskell is maybe two government buildings, like their health clinic back home," said Brock, now in his third year as the Fightin' Indians' football coach.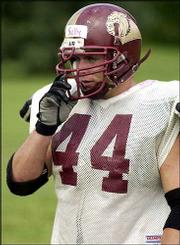 That's why Brock has worked so hard to keep the Native American All-Star Football Game in Lawrence.
Once the all-stars see the rolling tree-lined HINU campus with its ambient mixture of historic buildings like Tecumseh Hall, its modern dormitories and, of course, tradition-rich Haskell Stadium, Brock believes they will be more inclined to enroll.
At least one of the all-star players, in fact, has agreed to report to the Indians' preseason camp next month and attend the four-year school in southeast Lawrence.
He's John Sullivan, a linebacker from Winslow, Ariz. Brock first talked to Sullivan in December in Arizona, but did not receive a commitment at that time.
"He was weighing his options," Brock said. "There are a lot of junior colleges in Arizona that play football."
About a month ago, Sullivan -- still undecided -- was chosen to play for the West team in Saturday's all-star game at Haskell Stadium.
"I knew he had been picked for the game and had never been to Kansas," Brock said, "but I told him to bring his parents up here for the game and see if you like it."
Sold. The Sullivans do like it.
"The campus is pretty nice," Sullivan said between Wednesday's practice sessions. "I knew they had a nice facility, but I didn't know it was this nice."
Sullivan also conceded the price was right. At HINU, students pay only $105 per semester for room, board and tuition.
"I probably could have gone to a small college," Sullivan said, "but I would have had to walk on."
From all indications, Sullivan is a natural football player in an under-sized package.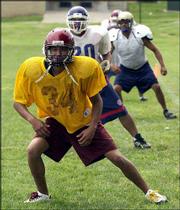 "In the 25 years I've been scouting," said game director Jeff Bigger, who runs OKscouting Inc. in Tulsa, Okla., "I've never seen anyone hit harder on film."
Carl Madison, coach of the West team, also has been impressed with Sullivan in the early practices.
"He's a hard-nosed player who goes hard all the time," Madison said.
Unfortunately for Sullivan, not many colleges are interested in offering a scholarship to a 5-foot-9, 180-pound linebacker from a small high school in the Arizona desert.
"One coach was telling me that at some schools if you don't have the criteria," Sullivan said, "they just throw the information out."
Now that Brock has landed Sullivan, he is concentrating on another member of the West team -- Courtney Tshingine, a 6-5, 215-pound quarterback from Tuba City, Ariz.
"He's still weighing his options," Brock said of Tshingine, who is expected to alternate at quarterback for the West with Michael Watson of Holbrook, Ariz.
The all-star teams will continue to practice today and Friday. Kickoff for Saturday's game will be 7:30 p.m.
Copyright 2018 The Lawrence Journal-World. All rights reserved. This material may not be published, broadcast, rewritten or redistributed. We strive to uphold our values for every story published.