Arras, France — It's the jersey Lance Armstrong covets and works so hard for: garish yellow and awarded daily to the leader of the Tour de France.
Armstrong slipped into the jersey Wednesday for the first time at this Tour after he and his team won a rain-soaked time trial. Then the five-time champion said he was ready to surrender the cherished shirt -- at least temporarily.
The reason? Because defending the lead at this early stage of the three-week race would be too grueling. For Armstrong, there's just one place where wearing yellow really counts: at the finish July 25 on the Champs-Elysees in Paris.
That would be Armstrong's sixth crown, a record in the 101-year-old race. The Texan took a step toward that goal in Wednesday's team event, opening important but not insurmountable gaps over key rivals.
From here on, Armstrong will try to prevent them from recovering the lost ground, and even look to extend his advantage when the Tour climbs into the Pyrenees at the end of week two, followed by the Alps.
"This is a hard race to defend," the 32-year-old Armstrong said. "We're not going to sacrifice the team to defend the yellow jersey in the north of France. The time to work and defend begins in the Pyrenees."
Armstrong has earned 60 jerseys in his Tour career, including five as champion.
Armstrong's overall lead was 10 seconds, but the next four spots on the leader board were occupied by his teammates.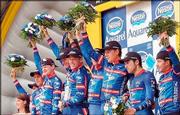 Copyright 2018 The Lawrence Journal-World. All rights reserved. This material may not be published, broadcast, rewritten or redistributed. We strive to uphold our values for every story published.