New York — Does summer seem too hot for cooking?
The season still has its hungry moments. We do the grilling thing, which is quick and simple, and we scoot into the air conditioning for formal dining.
That leaves long stretches of golden days with time to relax, to nibble a sweet mouthful, sip a cool something, and forget all sense of purpose even if we're not officially on vacation.
So here's a plan. Get up early, do a batch of easy baking, finish off the chores. Then spend lazy hours in the heat of the day just kicking back, perhaps lounging on the porch, or on the grass under a tree, or by the pool as early shadows creep in.
Load a tray with a fresh pitcher of homemade lemonade, chilly glasses of milk or iced tea; make space for a little dessert or a plate of cookies, perhaps including a touch of chocolate flavor.
The livin' can be that easy.
Here are some ideas:
All-American Chocolate Brownie Sundae
----
6 small squares of homemade chocolate brownies (recipe follows)
1/4 cup warm (prepared) bittersweet chocolate sauce
1 cup vanilla ice cream
2 tablespoons chopped, salted pecans
6 fresh Bing cherries with stem attached
Arrange 3 brownie squares on each of 2 serving plates or shallow bowls. Top each square with a small scoop of ice cream. Drizzle chocolate sauce over ice cream and brownies. Sprinkle nuts over the top. Top each scoop of ice cream with a cherry and serve.
Makes 2 sundaes.
Homemade Brownies
----
1 1/2 ounces semisweet baking chocolate
1 ounce unsweetened chocolate
3/4 cup butter
3 eggs
1 cup sugar
1/3 cup cake flour
3/4 teaspoon salt
1/2 teaspoon baking powder
1 1/2 teaspoons vanilla
1 cup finely chopped pecans
Preheat oven to 350 degrees.
Lightly butter and flour a 13-by-9-inch baking pan. Melt the chocolate and butter in the top of a double boiler, then let cool. In a small bowl beat eggs and sugar until light in color and add to the chocolate mixture. In another bowl sift together the flour, salt and baking powder; add to the chocolate mixture along with the vanilla and nuts. Pour into the prepared pan and bake for 25 to 30 minutes. Cool and cut into squares. Makes 1 dozen brownies.
Recipe from the California Milk Advisory Board.
Chocolate Chip Pecan Cookies
----
10 ounces (2 1/2 four-ounce bars) bittersweet chocolate baking bars, broken into pieces
1/2 cup (1 stick) butter, softened
1 cup brown sugar, packed
1/2 cup sugar
4 large eggs, at room temperature
1 teaspoon vanilla
2 1/4 cups unsifted flour
1 teaspoon baking powder
1/2 teaspoon baking soda
1/2 teaspoon salt
1 teaspoon espresso powder (optional)
11.5-ounce package milk chocolate chips
1 cup pecans (or walnuts), coarsely chopped
Melt bittersweet chocolate in top of double boiler over hot water.
Beat butter and sugars together on medium-high speed until light and fluffy. Turn mixer down to lowest speed, add eggs and vanilla.
In separate bowl, sift together flour, baking powder, baking soda, salt and espresso powder. Add 1/2 of flour mixture to creamed butter, stirring constantly. Add 1/2 of the melted chocolate. Stir until ingredients are well blended. Add remaining flour, stirring in completely; add remaining chocolate. Stir in chocolate chips and pecans. Cover and refrigerate dough for 1 hour.
Preheat oven to 350 degrees.
Drop 2 tablespoonfuls of dough per cookie onto nonstick cookie sheet. Bake 15 minutes. Remove cookies to wire rack to cool. Store in airtight container at room temperature or in freezer for longer storage.
Makes 4 dozen cookies.
Recipe from Ghirardelli Chocolate.
Homemade Lemonade
----
1/2 cup fresh lemon juice
1/2 cup sugar (or to taste)
1 cup ice
Fresh mint, optional garnish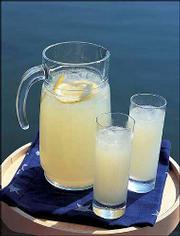 In a medium pitcher, combine the lemon juice and sugar with 2 1/2 cups of cold water and stir until the sugar dissolves. This mixture can be made a day ahead and refrigerated.
When ready to serve, add the ice to the pitcher of lemonade, stir, and serve immediately. For extra flavor, garnish with fresh mint.
Makes 4 cups.
Recipe from "White Barn Inn Cookbook," Running Press.
Peach Iced Tea
----
1 cup sugar
Juice of 1/2 lemon
4 firm, ripe peaches
4 tablespoons Darjeeling tea leaves
In a medium saucepan, combine the sugar with 1 cup of water and bring to a boil over high heat. Continue to cook over medium heat, stirring to dissolve the sugar. When the sugar is dissolved, add the lemon juice and remove from the heat.
Meanwhile, remove the pits from two peaches and roughly dice the flesh, leaving the peaches unpeeled.
In the jar of a blender, combine the sugar syrup and diced peaches and puree until smooth. Strain through a sieve and reserve in a small pitcher.
In a kettle, bring 4 cups of water to a boil. While the water is boiling, remove the pit from one of the remaining peaches and roughly dice the flesh. Place the tea leaves and diced peach in a heat-resistant pitcher. Add the boiling water and infuse for 3 minutes. Add 4 cups of cold water to the pitcher and stir vigorously with a wooden spoon, smashing the peach pieces to a pulp.
Remove the pit from the remaining peach and cut the peach into 6 wedges, leaving the peach unpeeled. Combine the wedges in a serving pitcher with 4 cups of ice. Put another 4 cups of ice in a large sieve and place it over the serving pitcher. Strain the peach and tea infusion through the ice-filled sieve into the pitcher. Add peach syrup to taste and stir to mix. Serve immediately. The remaining syrup can be served with the iced tea for those who prefer their tea sweeter.
Makes about 3 quarts.
Recipe from "White Barn Inn Cookbook," Running Press.
Copyright 2018 The Associated Press. All rights reserved. This material may not be published, broadcast, rewritten or redistributed. We strive to uphold our values for every story published.