Kigali, Rwanda — Thousands of genocide survivors, soldiers, former rebels and farmers gathered at the national stadium for a somber ceremony Sunday marking the 10th anniversary since the fall of the extremist government that led Rwanda's 1994 genocide.
Through poems and speeches, Rwandans recalled deep wounds but also took stock of how far the country had come since the dark days of the slaughter.
"Our past was shaped by bad leadership that promoted discrimination. That is over," President Paul Kagame told the assembled crowd in the Amahoro Stadium, where thousands of Tutsis sought refuge during the genocide.
More than 500,000 minority Tutsis and political moderates from the Hutu majority were killed in the 100-day slaughter organized by the extremist Hutu government then in power. Government troops, Hutu militia and ordinary villagers spurred on by hate messages broadcast over the radio went from village to village, butchering men, women and children.
The genocide ended when then-rebels led by Kagame captured the Rwandan capital, Kigali, and ousted the extremist government July 4, 1994.
"We have in the last 10 years decided to build a new Rwanda. We have achieved a satisfactory stage which should be the basis for further achievements," Kagame said, citing the introduction of multiparty politics and the prevailing peace and security in the small central African nation.
However, Kagame also hit at Rwandan insurgents based in neighboring Congo and their political leaders, who are mainly in Europe. The rebels include members of the former army and Interahamwe Hutu militia who played a central role in the genocide -- and fled to Congo when Kagame ousted the extremist government.
"We shall not compromise the security of our country. We shall resist any group that attempts to destabilize our country like we have done in the past," Kagame said. "We shall fight it like any other war we fought and won."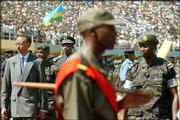 The ceremony was also attended by former rebel commanders who were integrated into the Rwanda Defense Forces and awarded senior ranks on Friday.
The ranks were awarded in a first step toward giving the former rebels senior positions in the military.
Copyright 2018 The Associated Press. All rights reserved. This material may not be published, broadcast, rewritten or redistributed. We strive to uphold our values for every story published.