For Dave Pearce, saving soles isn't as lucrative as it used to be.
That's why Pearce, owner and lone employee of Sole Savers Shoe Repair, 8 W. Ninth St., closed the downtown store Wednesday after 13 years in business.
Pearce said the business had become less profitable because more people are content to throw away their shoes when they become worn. It also takes more time to fix a shoe today than it did years ago, he said, which cuts into the business' profit margin.
"So many of the shoes are so low-end that they're hard to even work on," Pearce said.
The closing leaves Lawrence with just one shoe repair shop, BKB Leather, 811 Elm St.
BKB owner Bruce Barlow said when he opened his shop 20 years ago there were at least five other shoe repair shops in Lawrence. He isn't ready to label shoe repair shops a dying breed, but said the business had changed considerably.
"For sure there are a lot more throw-away shoes out there, but there are still a lot of high-end shoes," Barlow said. "And there are still a lot of people who love their shoes and want to do anything they can to fix them. I'm still pretty busy right now."
On a good week, Pearce estimated that his shop served about 200 customers. Barlow said he didn't think residents would be left pacing the floor over a pending shortage of shoe repair options.
"I should be able to handle whatever they throw at me," Barlow said.
Pearce said he was ready to move on. He's taking a job with the Lawrence Paper Co.
"I'm getting older and I'm getting a little tired of the battle," Pearce said.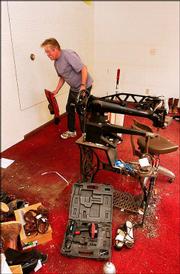 Copyright 2018 The Lawrence Journal-World. All rights reserved. This material may not be published, broadcast, rewritten or redistributed. We strive to uphold our values for every story published.