Jordan Harding would like new duds when he takes the field this fall as a member of the Kansas University marching band.
And he's hoping new uniforms would convince more of his fellow students to join the Marching Jayhawks.
"It would be tremendous," the junior trumpet player said. "I sense the program turning around a lot. We've had dwindling numbers for years. The uniforms would really help us make the program what we once were."
Thanks to a new campaign spearheaded by the Journal-World and KUsports.com, those new uniforms, which would replace uniforms that have been in use since 1978, could soon become a reality.
The "Feather the Flock" campaign kicks off today as a joint effort with the Topeka Jayhawk Club, the KU athletic department, KU Endowment Association and the school of fine arts.
For the next month, the newspaper and its popular Web site for KU athletics, will be drumming up support with occasional stories on the marching program. The newspaper and Web site also will publish lists of donors and a chart tracking the campaign's progress.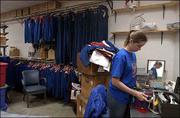 The goal: To raise $150,000 to buy enough uniforms to fit 300 musicians by March 1, in time to receive the uniforms for this fall's football season.
"When we learned of the serious uniform situation and were told how old they were, and that many of them had to be taped and temporarily held together, we thought this would be a tremendous cause," said Dolph C. Simons Jr., Journal-World editor and chairman of The World Company, which owns the newspaper. "We thought it would be fun. Lawrence people are so appreciative of the band, we thought they ought to be dressed first-class."
The uniform drive started tuning up last month, when the Topeka Jayhawk Club sent letters to about 1,000 athletics donors seeking funding. So far, more than $33,000 has been raised.
Each uniform costs $467. The proposed uniforms, to be designed by Fruhauf Uniforms Inc. in Wichita, will include a traditional-looking removable overlay, with a drum corps-style contemporary uniform underneath.
The traditional look will be used for pre-game activities, with the contemporary look for halftime.
You can help feather the Marching Jayhawk flock with a donation for one piece, a whole uniform, or the whole band.Uniform cost breakdown:Plume: $15Shako (hat): $40Jacket: $200Pants: $90Light raincoat: $42Heavy raincoat: $80Total: $467Students pay about $200 a year for other expenses, such as shoes, gloves, dry cleaning and insurance.Source: Kansas University
Steve Hedden, dean of the School of Fine Arts, said the new uniforms were part of a drive to recruit members to the marching band. The band numbered about 140 last year, down from 275 during its heyday in the late 1980s.
"It's like a confluence of factors," Hedden said. "Jim Hudson is in his first year (as marching band director). John Lynch is in his second year (as director of bands). I'm in my first year. The football team had a chance to go to a bowl game. The timing presents itself as an opportunity."
If "Feather the Flock" is successful, Lynch said he hoped it could be a springboard for a campaign to create a $1 million endowment for the marching band. The endowment would be used to cover expenses and provide stipends for marching band members, a common practice at schools with successful marching programs.
Currently, KU band members must pay about $195 a year in tuition, instrument rentals, uniform cleaning and other expenses to participate in the marching band.
"The financial part is really one of the reasons for the band's decline," Lynch said.
Harding, the trumpet player, said the uniform drive was music to his ears.
"We really need to seize the moment," he said. "The program is really starting to turn around."
You can help outfit the Marching Jayhawks one piece at a time, a uniform at a time, or through a larger donation of your choice.¢ Contributions may be forwarded to the KU Endowment Association, P.O. Box 928, Lawrence 66044-0928. Checks should be made to KUEA, with "Feather the Flock" in the memo section.¢ Or visit feathertheflock.com for photos of the band through the years, audio, video and an online donation form.Names of individuals and/or companies that donate to the campaign will be printed in the Journal-World, unless they request otherwise. Donors will be listed by the following giving levels:¢ $10,000 and up¢ $5,000-$9,999¢ $3,000-$4,999¢ $1,000-$2,999¢ $500-$999¢ $300-$499¢ $100-$299¢ To $99
Copyright 2017 The Lawrence Journal-World. All rights reserved. This material may not be published, broadcast, rewritten or redistributed. We strive to uphold our values for every story published.