Lawrence public school students looking for a ride to class may soon have a new option: discount fares on city buses.
City officials confirmed this week they are looking at allowing K-12 students to participate in a plan that allows Kansas University students on city buses at reduced rates.
"Maybe it's time to look at all educational levels," said Danny Kaiser, chairman of the city's Public Transit Advisory Committee. "While ridership continues to grow at a regular pace, we've still got room on the buses."
The city started its KU program last fall, allowing students to board city buses by showing their KU on Wheels pass. More than 480 students, who pay an extra fee, signed up for the program during the fall semester. Ridership climbed above 1,000 people per day in September, officials said, though it dipped to 853 per day during the traditionally slow month of December.
"We were looking at the KU program, and we thought, 'Why aren't we extending this program if it's been so successful?'" Kaiser said.
Rick Gammill, the Lawrence school district's director of special operations, safety and transportation, said Friday he welcomed the idea.
Budget cuts in recent years have limited the number of students the district buses to schools -- and, unless they live more than 2.5 miles away from school, students' families must pay the district for the ride.
Not every student can be served by the "pay-to-ride" system, Gammill said.
"I think that's a great program for those students who can't afford pay-to-ride," he said of the city proposal.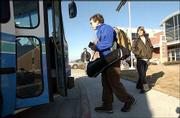 Karin Rexroad, the city's transit administrator, said details of the program, including the cost for student riders, had not been worked out. She has been looking at youth programs offered by bus systems in other cities.
"There's anything from summer passes to selling passes through the school systems to nothing," Rexroad said.
There would be a restriction. Federal law doesn't allow a federally subsidized bus system to compete with school district buses -- so the T wouldn't be allowed to adjust its routes to go right by Lawrence schools.
"We're serving students now, the way the routes are," Rexroad said.
Gammill agreed, saying he had referred "dozens" of students to the T already. A ride back-and-forth to school costs a dollar a day on the T, he said, but closer to $1.37 a day on school buses.
"Our end result," he said, "is we want to see children get transportation any way they can."
The Public Transit Advisory Committee will discuss the issue at its next meeting, at 4 p.m. Feb. 19.
Copyright 2018 The Lawrence Journal-World. All rights reserved. This material may not be published, broadcast, rewritten or redistributed. We strive to uphold our values for every story published.