As a second U.S. spacecraft hurtled toward a landing near the Martian equator, engineers here geared up Friday for what is likely to be a prolonged struggle to try to repair its seriously ailing twin, the Mars rover Spirit, on the other side of the planet.
Since Wednesday, the robot rover has been "a patient in intensive care," as one engineer put it, experiencing a series of electronic spasms that have prompted its computer to try over and over to reboot itself.
Meanwhile Friday, scientists said Mars Express, a European spacecraft, had found the most direct evidence yet of water in the form of ice on Mars, detecting molecules vaporizing from the Red Planet's south pole.
The quest for water on Mars -- which could indicate life -- has fascinated scientists for centuries.
The Mars Express, launched last year by the European Space Agency, made the discovery with its infrared camera while circling the planet's south pole.
Inferences no more
Scientists have long believed the planet's poles contain frozen water, but previous findings were based more on inferences, European scientists said.
While the Mars Odyssey has indirectly shown the presence of water at the pole using temperature monitors, the European camera has for the first time been able to "literally map the polar cap" using infrared technology that shows where water molecules are present, said scientist Jean-Pierre Bibring.
"You look at the picture, look at the fingerprint, and say this is water ice," said agency scientist Allen Moorehouse. "This is the first time it's been detected on the ground. This is the first direct confirmation."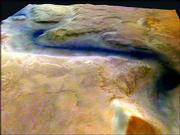 James Garvin, lead scientist for NASA's Mars exploration program, said Friday that Mars Express had offered further confirmation of what scientists have long known: "Mars is a water planet."
The European Space Agency's Mars Express orbiter is part of Europe's first mission to Mars. The spacecraft entered Mars' orbit Dec. 25 and began transmitting its first data from the planet this month. It has failed to pick up a signal from its surface probe, the British-made Beagle II, which had been scheduled to land Dec. 25.
Not-so-spirited response
The U.S.-made Spirit rover, which successfully has transmitted from the Martian surface since Jan. 3, responded in sketchy fashion Friday to commands from mission control at the Jet Propulsion Laboratory in Pasadena, Calif. It was the first data sent by Spirit since Wednesday and confirmed a signal that it was in a self-protective mode -- keeping itself from fatally freezing up -- because its electronic brain was sensing trouble.
The root cause of the malfunction remained a mystery, engineers said.
"The chances that (Spirit) will be perfect again ... are not good," said project manager Pete Theisinger, but the chances that it will never work again "are also low."
Attempts to communicate with Spirit on Thursday and Friday produced limited -- and puzzling -- engineering data. The computer's processor "wakes up, loads the flight software and uncovers a condition that would cause it to reset," Theisinger said. But the few clues so far indicate that "the thing that causes the reset is not always perceived to be the same. We are confused by that, but that's the facts."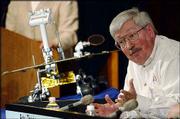 He predicted that it will take "many days, perhaps a couple of weeks, even in the best of circumstances" before Spirit is functioning at some useful level.
The good news, he said, is that "we have been able to establish that we can command it, and ... it can give us information, and ... the power system is good" and the rover temperatures are in a safe range. "We have a serious problem," he said, but "the fact that we've got a vehicle that we believe is stable for an extensive period of time will give us time to work that problem."
Opportunity knocks
Of the 300 or so engineers and scientists on the Mars team, about half have been diverted to focus on the second U.S. spacecraft, Opportunity, as it heads toward a landing on an equatorial plain called Meridiani Planum, where a mineral that usually forms in association with water has been detected in large quantities. The touchdown is scheduled for 12:05 a.m. Sunday.
There is no evidence, at this point, that Opportunity will share Spirit's affliction, Theisinger said. But just in case, the team members may proceed more slowly with that rover's post-landing operations than they did with Spirit.
Copyright 2018 The Lawrence Journal-World. All rights reserved. This material may not be published, broadcast, rewritten or redistributed. We strive to uphold our values for every story published.