Foxboro, Mass. — The game was coming down to a final kick, as so many of the New England Patriots' games do.
Coach Bill Belichick didn't fret: He had Adam Vinatieri.
"We put one of our best players out there," Belichick said, "and let him kick it."
Some coaches might feel squeamish about letting the season ride on the foot of one of the smallest players on the field, but no one on the Patriots feels that way about Vinatieri.
With 15 game-winning field goals in his career, including the one to win the Super Bowl two years ago, he has shown he can handle the pressure and just about anything the New England weather can throw at him.
"He's Mr. Clutch," backup quarterback Damon Huard said. "The Snow Bowl and the Super Bowl kicks have defined his legacy here. But we see him do it every day in practice. He's first-class. I'm glad he's on my team."
Vinatieri was always a solid kicker, ranking in the top 10 of the league's all-time list for accuracy. But his legend grew in the 2002 playoffs, when he helped the Patriots squeak out a victory over Oakland in the playoff game known around here as the "Snow Bowl."
Vinatieri made a 45-yard field goal off the sloppy and frozen turf with 32 seconds left to send the game into overtime (thanks in part to Tom Brady and the NFL's "Tuck Rule"). Then, Vinatieri won it with a 23-yarder to give New England a chance to play for the AFC title.
In the Super Bowl, it all came down to Vinatieri again. And when he kicked a 48-yarder as time expired, the Patriots had a 20-17 victory over the St. Louis Rams and their only NFL title.
"He has the respect from us that when the game's on the line, we know he'll come through," linebacker Roman Phifer said.
Vinatieri hit 90 percent of his field-goal attempts last year and hit 33 in a row from 40 yards or less before a three-week span in which he went 3-for-7. He finished the regular season by making 18 of his last 23 attempts and then connected on six of seven in the playoffs, including the game-winner against Tennessee and all five he tried in the AFC title game against the Colts.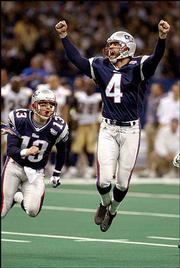 Copyright 2018 The Associated Press. All rights reserved. This material may not be published, broadcast, rewritten or redistributed. We strive to uphold our values for every story published.