Baldwin — Although it's the end of January, it sure felt like early March Friday night at the Baldwin Invitational when Ottawa and Mill Valley met in a semifinal of the high school boys basketball tournament.
With both sides well represented in the stands with clamorous fans, the Cyclones took a close game and blew it wide open in the second half to derail the Jaguars, 71-55.
The first half was close. It was 10-all after the first quarter, and Mill Valley led, 28-26, at halftime.
Then Ottawa called on its pressure defense -- what Cyclone coach David Grover considers "the one constant we've had since Christmas."
The Cyclones (10-2) constantly bugged the Jaguars, creating scores followed by steals and more scores.
"We were hoping it was going to be a dogfight in the end," Mill Valley coach Justin Bogart said. "We made too many mistakes in the second half. They were too good on defense."
Lee Baldwin, Andrew Maxwell and Clint Bones combined for 57 points for the Cyclones. Baldwin led OHS with 23.
The loss gave Mill Valley (9-1) its first defeat of the year. Senior forward Jacob Eaton led the Jaguars with 24 points.
"It's how we respond that will determine the character of our team," Bogart said.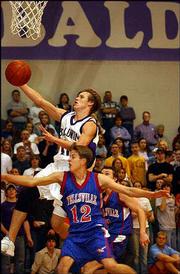 Grover is confident the Jaguars won't have any trouble getting back to their winning form.
"You chalk up the 'W' and feel good, but in the back of your mind you know they'll be a better team come March," Grover said of his opponent. "Anybody that's unbeaten in the third week of January is legit."
Ottawa will play in the championship game at 7:30 tonight against Kansas City (Mo.) Lincoln Prep, which slipped by Anderson County, 52-50. Mill Valley will take on Anderson County at 6 p.m. for third place.
Baldwin 59, Wellsville 58
A layup from guard Jeremy Wright in the waning seconds was the difference in Baldwin's win over Wellsville.
Wright scored the last bucket before the winning shot, and after Wellsville's Kyle Rush missed two free throws, the Bulldogs (5-8) had 17 seconds to call a timeout and draw up a play.
"We definitely wanted the ball in his hands, if nothing else to set the table," Baldwin coach Jeff Haas said of getting Wright involved in the winning play.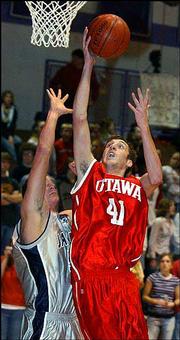 Wright finished with 10 points. Austin Inzer topped Baldwin with 12 points, and Chris Irick was right behind with 11 points, including three three-pointers.
"The kids executed very well down the stretch," Haas said. "This one of those hard-fought games. Both teams were scrappy."
Senior Ryan Oshel recorded a team-high 27 points for Wellsvile (3-8).
Baldwin will play Augusta in the fifth-place game at 4:30. Augusta demolished Kansas City Turner, 65-29. Wellsville face Turner today for seventh place.
Copyright 2018 The Lawrence Journal-World. All rights reserved. This material may not be published, broadcast, rewritten or redistributed. We strive to uphold our values for every story published.