Concord, N.H. — John Kerry accused the Bush administration on Friday of shortchanging veterans, targeting Republicans while Democratic presidential rivals hoped his campaign momentum would soon subside.
"The first definition of patriotism is keeping faith with those who have worn the uniform of the country," said the Massachusetts senator, who served in Vietnam. He said some veterans must wait too long for health care, while others who are disabled receive a reduced pension.
Howard Dean, the former front-runner, called for the replacement of Federal Reserve Chairman Alan Greenspan as he sought to re-establish his outsider's credentials in the race.
"If he was foolish enough -- and he's not a foolish man -- to support the outrageous tax cut that George Bush put through, then he has become too political and we need a new chairman," said the former Vermont governor.
Greenspan's term ends in June. Bush has said he intended to reappoint him.
Four days before the New Hampshire primary, Sen. Joe Lieberman released a new television commercial that said he was "a national leader in the fight against terrorism and tyranny."
The ad says Lieberman was the only Democratic candidate who was "clear we are safer with Saddam Hussein in prison, not in power," and that the Connecticut senator "was warning about al-Qaida long before George Bush knew who they were."
Kerry's victory in the Iowa caucuses Monday night sparked a powerful surge in the New Hampshire polls, which show the Massachusetts senator moving well past his rivals. "Numbers scare me," he said during the day -- but it was the other Democrats who seemed more concerned.
Dean sang of a comeback as he campaigned for one. Ducking into a music store in Milford, N.H., he pulled down a guitar and began strumming "Come Back Baby."
His campaign also prepared a new commercial featuring Dean's wife, Judy, a physician who had avoided all public campaign appearances until last week in Iowa. The former Vermont governor has been struggling to re-establish himself since his third-place finish in the state and a loud, arm-waving appearance before supporters that night.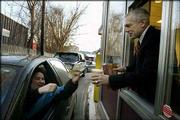 Copyright 2018 The Associated Press. All rights reserved. This material may not be published, broadcast, rewritten or redistributed. We strive to uphold our values for every story published.