Charlotte, N.C. — Signing with the Carolina Panthers was the best career choice Stephen Davis ever made: He can sleep in his own bed twice a week, tuck his children in at night and spend time with his extended family.
He's also headed to the Super Bowl for the first time in his career.
The running back's homecoming is a major reason why the Panthers advanced to the Feb. 1 game against the New England Patriots.
A week away from the biggest game of his career, Davis hasn't stopped to reflect on his dream season. He rushed for a career-best 1,444 yards as the focal point of a run-oriented offense and was selected to the Pro Bowl.
"I haven't looked back yet. Maybe when the season is over I can take time and look at the whole season and enjoy the whole season," he said. "Right now, the only thing I am worrying about is that we have one more game, and it is the biggest game of the season."
After seven seasons with the Washington Redskins, three of them Pro-Bowl years, Davis was considered a misfit in Steve Spurrier's offense and was cast aside during the offseason. Scouring the market for work, only Carolina and the Houston Texans showed any real interest in the 29-year-old back.
As a native of Spartanburg, S.C., where the Panthers hold training camp, and because his primary residence is 90 minutes away from Charlotte in Columbia, S.C., picking the Panthers was a no-brainer.
Davis' homecoming has meant as much to him this year as winning football games and proving he's still one of the top backs in the league.
Media-shy and leery of accepting the standout role, being home this season is one of the few topics Davis truly opens up about.
"Being able to go home some nights and sleep in my own bed, seeing my kids, my mother, seeing my grandmother before she died, that was important to me," he said. "A lot of guys don't get the opportunity, and I am blessed to have that opportunity. I am also blessed to see my family during a season that has been so rewarding.
"I am having fun, and they are having fun."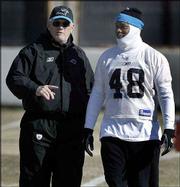 Copyright 2018 The Associated Press. All rights reserved. This material may not be published, broadcast, rewritten or redistributed. We strive to uphold our values for every story published.