ROCHESTER, N.Y. — Eastman Kodak Co., which turned picture-taking into a hobby for the masses a century ago, is eliminating from 12,000 to 15,000 jobs, or close to a quarter of its work force, as it struggles to make the wrenching transition from film to digital photography.
The job cuts, announced Thursday, will be made in Kodak's traditional film photography businesses and will take place during the next three years, bringing the company's total employment down to World War II-era levels of around 50,000.
Kodak became a symbol of American ingenuity and one of the most recognizable brand names on Earth during the 20th century. But its film business has been on the wane for more than a decade, its decline quickened in the 21st century by filmless digital cameras, which record pictures on computer chips.
Kodak was slow to get into digital photography, and now, without a swift conversion, risks fading into history, analysts warn.
"We've got good momentum, particularly in our digital portfolio," which turned a profit for the first time in 2003, chief executive Dan Carp said Thursday. "We can see now into the future and have scoped out a three-year plan to ensure we stay ahead. We believe 2003 marks the bottom, and we'll build on our performance going forward."
The announcement came as Kodak posted a fourth-quarter profit of $19 million, down dramatically from $113 million a year ago.
Wall Street appeared to welcome the sharper focus on digital technology. Kodak's shares climbed $3.49, or nearly 13 percent, to close at $30.95 on the New York Stock Exchange. In October, the stock was down to nearly $20, an 18-year low.
"It's needed, but it radically increases the risk profile of the company. You've got a company that's going from oligopoly to a very competitive landscape," said analyst Shannon Cross of Cross Research-Soleil Securities in Short Hills, N.J.
Kodak's global work force peaked at 136,500 in 1983. It now employs 35,500 people in the United States, including 20,600 at its fading manufacturing hub in Rochester, N.Y. It eliminated up to 6,000 jobs in 2003.
During the recent fourth quarter, Kodak's consumer digital camera sales leaped 87 percent, and revenue from its online photo-sharing service surged 55 percent. But U.S. sales of film products sank 10 percent.
Kodak has poured more than $4 billion into digital research in the past decade, securing hundreds of patents and developing a vast array of products and services, including its Picture CD software, online photo-sharing service and easy-to-use line of digital cameras.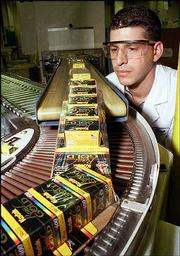 Copyright 2018 The Associated Press. All rights reserved. This material may not be published, broadcast, rewritten or redistributed. We strive to uphold our values for every story published.