Bill Belichick is pleased his New England Patriots have two weeks to prepare for Carolina in the Super Bowl. Even though he won a title two years ago with a short break.
"Last time, there was so much urgency, playing one day and flying down to New Orleans the next day," the coach said. "It totally changed the scope of time that we had to work with. Now we have more time. We will try to use it wisely."
Players might worry about breaking momentum, and fans might wonder why they have to wait so long for The Big Game. The delay is just fine with coaches and TV executives: Coaches like the time to plan; TV types like the time to hype.
Indeed, a two-week break has been the norm since the first Super Bowl in 1967. This is the 38th Super Bowl, and 31 have been played after a two-week break; three of the last four were played only one week after the conference title games, however.
Two of the seven one-week breaks weren't scheduled. One was in 1983 after the players' strike shortened the season and extended the playoffs; the other was two seasons ago after the season was pushed back by the Sept. 11 terrorist attacks.
Recent history makes the longer time off seem a little strange. But not to the networks, who need the time to prepare and familiarize the nation with the teams and players. This time, CBS wants to spread the word about the Panthers, a small-market team with few big-name players.
"It helps when you have to get ready for seven hours of programming, including features on two teams that weren't identified until Sunday," Sean McManus, president of CBS Sports, said Monday.
"It especially helps with Carolina, a team that most people don't know much about. We have an extra week to get them familiar with the players and the story lines."
Belichick has been successful with one-week breaks. He's been to four previous Super Bowls, three as an assistant, and has done two of his best coaching jobs when he had only one week -- as defensive coordinator of the Giants in 1991, and as head coach of the Patriots two seasons ago.
In the Giants-Bills game 13 years ago, he designed a defense with two down linemen and six or seven defensive backs to slow down Buffalo's no-huddle offense. New York was a 6-point underdog but won, 20-19, when Bills kicker Scott Norwood's 47-yard field-goal attempt sailed wide right with seconds left.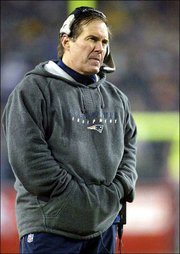 Against the St. Louis Rams in 2002, Belichick used a similar alignment against Kurt Warner and Marshall Faulk. New England, a 14-point underdog, won, 20-17, on Adam Vinatieri's 48-yard field goal as time expired.
That 1991 game was the first of four straight Super Bowls -- all losses -- for the Bills. They also had only a week's break before their final Super Bowl, a 30-13 loss to the Cowboys in 1994.
"It is a little tougher with the one-week break," said former Bills coach Marv Levy. "You're working on contingency plans, because you don't know if you're going to play or who you're going to play. And you've got to have someone dealing with all those distractions: tickets for players, getting their families to the site, all the rest of those things. That works better with two weeks."
It will stay this way; the next four Super Bowls all have been scheduled with two-week breaks. The first two will be in February and the two after that probably will be -- the league decided to extend the season after playing in February for the first time two years ago.
"People like to complain about the hype and the delay," McManus says. "But from our standpoint, all it does is build interest and build excitement. That's the way it should be."
Copyright 2018 The Associated Press. All rights reserved. This material may not be published, broadcast, rewritten or redistributed. We strive to uphold our values for every story published.