Columbia, Mo. — For the second straight game, Royal Ivey was Texas' go-to guy.
Ivey scored 10 of his career-high 24 points in overtime to lead the No. 16 Longhorns to a 75-69 victory Tuesday night over Missouri, their second straight narrow escape. Ivey also was the hero in a two-point victory over Nebraska Saturday, getting the winning basket with 2.4 seconds left.
"I've been tweaking my game all summer and finally it's been paying off," Ivey said. "I'm just playing fearless and doing what I do best."
Rickey Paulding had 20 points for Missouri (7-7, 2-2 Big 12), but missed five free throws in the final four minutes of regulation and overtime. Paulding, a 78-percent free-throw shooter, was 6-for-12 overall.
"I was just trying to be focused and make the free throws, but for whatever reason they just didn't go in tonight," Paulding said. "I'm kind of disappointed in myself."
Texas (12-2, 3-0) was perfect from the line in overtime, going 10-for-10. That included six by Ivey, a 57-percent foul shooter. UT was 15-for-19 overall.
That helped the Longhorns stretch their winning streak to seven games, and beat Missouri for the sixth straight time. It was the Tigers' second straight loss at home.
Ivey, who averages 10 points, put Texas ahead to stay with two free throws that made it 67-65 with 2:48 to go, then added two more baskets in the final 1:10 to help put the game away.
"This league is as tight, and will be as tight, as it's been in the six years I've been at Texas," coach Rick Barnes said. "I like the way the guys maintained their poise."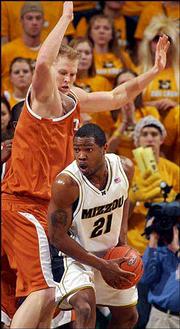 Missouri played its second straight overtime. The Tigers won, 79-75, Saturday at Oklahoma. The Tigers were 1-2 in a three-game, eight-day stretch against ranked opponents and fell to .500 for the second time of the season.
"You can always look at something and be concerned about it, even when you're winning," Quin Snyder said. "I'm just pleased that I think we're playing better. We can't be discouraged because it didn't turn out for us this time."
Texas forced the extra period on a three-pointer by Brian Boddicker with 6.7 seconds left, after Arthur Johnson had blocked Ivey on a drive. Paulding, who drove the baseline for a dunk that put Missouri ahead 61-58 with 31 seconds left, was too long on a three-pointer for the win at the buzzer.
Snyder wished Johnson hadn't picked up his fifth blocked shot of the game because Ivey's basket would have left Missouri ahead by one.
"If A.J. doesn't block the shot, even if it goes in, we're up one with the ball," Snyder said. "Boddicker stepped up and got a gift and he made the most of it. He knocked it down."
Ivey, who topped his previous career best of 22 against Providence in another overtime game earlier this season, also led Texas in assists (5) and rebounds (6) and had only one turnover. Brandon Mouton added 13 points.
"What I like about Royal is he understands who he is and he's going to do what we need," Barnes said. "We just tell him to get aggressive.
"Everyone knew he was the least heralded guy coming in, but the bigger the stakes the better he is."
Johnson added 16 points and seven rebounds for Missouri, and Linas Kleiza had 14 points.
Texas has beaten Missouri six straight times, three times on the road. The Longhorns are 29-12 on the road in Big 12 play in six years under Barnes.
Mouton had seven points and Kenton Paulino four during a 13-4 run to start the second half that put Texas ahead 35-29 with 15:50 to go.
But the game was tied eight times in the final eight minutes of regulation and neither team led by more than three points.
Missouri has lost six of its last nine games.
Copyright 2018 The Associated Press. All rights reserved. This material may not be published, broadcast, rewritten or redistributed. We strive to uphold our values for every story published.