Rafah Refugee Camp, Gaza Strip — Israeli army bulldozers flattened 30 houses and a mosque in this refugee camp Tuesday, Palestinian officials said, accusing Israel of systematically razing homes to widen a military buffer zone.
The military said it only targeted buildings from which shots were fired overnight at Israeli forces, but did not know how many structures were demolished.
Frantic residents threw mattresses and blankets from second-floor windows as beams and walls came crashing down around them. One woman, standing near a bulldozer, waved a white flag in a failed attempt to slow the demolition and buy time to salvage her belongings. A crying girl helped her mother carry a mattress.
Army officials initially insisted the razed houses had been empty, but then said the claim was still being checked. The governor of Rafah, Majed Agha, said about 400 people were left homeless.
Israel has demolished hundreds of houses in Rafah, near the Egyptian border, in more than three years of fighting, saying the buildings gave cover to gunmen and weapons smugglers.
The Palestinians say Israel is clearing large swaths in the camp to distance built-up areas from the narrow strip Israeli troops patrol along the Egyptian border. Israel has erected a tall metal barrier south of the camp as a shield for troops.
The destruction is part of a plan by Israel "to create a wide buffer zone and consolidate Israeli military control in the area," Agha said.
Also razed Tuesday was a neighborhood mosque, Al Tawhid, which had been partially demolished Saturday, residents said. The mosque is about 70 yards from the Israeli metal barrier.
'Wall of annexation'
Palestinian Prime Minister Ahmed Qureia, meanwhile, asked foreign diplomats to urge their governments to speak out against Israel's separation barrier in the West Bank, ahead of a Feb. 23 hearing by the world court.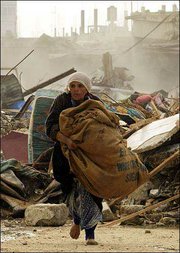 The Palestinians have asked the International Court of Justice to rule on the legality of the barrier, which has severely disrupted the daily lives of tens of thousands of Palestinians. The Palestinians say the barrier amounts to a land grab and will make it impossible to create a viable Palestinian state in the West Bank and Gaza.
"We ask the entire world to restrain the Israeli madness of expansion," Qureia said after meeting with more than a dozen diplomats. "This is a wall of annexation and expansion, not for security."
Lebanon attacked
Israeli warplanes also struck Hezbollah guerrilla bases in southern Lebanon late Tuesday, threatening to re-ignite another Arab-Israeli front that has been mostly calm for years.
Israel said it was retaliating for a Hezbollah attack that killed one Israeli soldier and wounded another a day earlier, and said the attacks were intended as a message to Syria, the main power broker in Lebanon.
The United States blamed Hezbollah guerrillas for the escalation and cautioned Syria against giving support to the Lebanese militant group.
There was no word on casualties from the airstrikes in a valley six miles north of the Israeli border near the Mediterranean coast, Lebanese security officials said.
One target, a Hezbollah training position, took a direct missile hit and the sound of exploding ammunition was heard in the area, the officials said. They said they couldn't determine the extent of damage because of the remote location.
At least three air-to-surface missiles were fired in the two raids, the Lebanese officials said on condition of anonymity. Israeli military spokeswoman Maj. Sharon Feingold said the targeted positions were used by Hezbollah to launch attacks on Israel.
Copyright 2018 The Associated Press. All rights reserved. This material may not be published, broadcast, rewritten or redistributed. We strive to uphold our values for every story published.