As the meets get smaller, Free State High swimmer Alex Brunfeldt gets more and more lonely.
Tuesday, it was a bit ridiculous.
Swimming the 500 freestyle at a home triangular against Blue Valley and Blue Valley West, Brunfeldt blazed past the field, finishing the long-distance race in 4:36.95. The second-place finisher, BV West's Marc Montreull, was 92 seconds behind at 6:08.18.
"He set the school record Saturday," FSHS coach Annette McDonald said. "But there was no competition to make that happen today."
Compared to his competition, though, Brunfeldt appeared Herculean. To put it in perspective, five races at the 12-event triangular took less than 92 seconds to win. But that alone was the gap between Brunfeldt and the rest of the pack.
His time was a half-second off his school record, an impressive feat considering he basically was racing against himself.
"I've done a lot of these little meets throughout the year," Brunfeldt said. "I'm kind of used to it."
Brunfeldt's race was the extreme, but Free State dominated the rest of the triangular in similar fashion, capturing first place with 239 points. BV West earned 167 points, and Blue Valley finished with 124.
The triangular was just three days after Free State placed fifth at the 27-team Mo-Kan Invitational in Kansas City, Mo. That's where Brunfeldt set the school record in the 500 free, finishing in 4:36.57.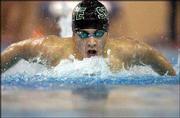 "At Mo-Kan, I was pumped to be swimming against some harder competition and against my freinds on other team," Brunfeldt said. "It's a little easier to swim faster at big meets."
Nevertheless, Free State flew to yet another first-place meet finish. The Firebirds have finished first in every meet but the Mo-Kan Invite this year.
Brunfeldt also took first in the 50 freestyle, and had a hand in first-place finishes in the 200 medley relay and 400 freestyle relay. Chris Wolff and Chase Torgerson were on both of those relay teams. Chris Sellon was on the 400 free, and Anthony Portela was on the 200 medley.
The other relay, the 200 freestyle, saw the only Firebird school record fall Tuesday. Portela, Wolff, Sellon and Nathan Schriner teamed up to finish in 1:34.10, nearly two seconds better than the previous mark.
Schriner, Portela, Wolff, Torgerson and Sellon all had first place finishes in individual events, as well. In fact, the 1-meter diving competition was the only event not won by a Firebird. Marc Wilson led Free State with a fourth-place finish in that.
At this stage in the season, McDonald is fitting her swimmers into races like a jigsaw puzzle. With several swimmers already qualified for state, she's now putting others into races to hopefully get as much depth as possible for the state meet -- which could translate to Free State's first state championship if things go well.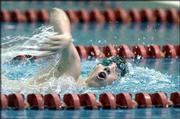 "We're getting closer," McDonald said. "I feel like we're putting in the time, and I just need to know where the guys are going to do their best events, now."
Added Brunfeldt: "I think we're really close. At Mo-Kan, we were the top Kansas team, so hopefully, we'll be able to keep that same pace on into state."
Copyright 2018 The Lawrence Journal-World. All rights reserved. This material may not be published, broadcast, rewritten or redistributed. We strive to uphold our values for every story published.