MANCHESTER, N.H. — John Kerry and John Edwards celebrated, while Wesley Clark exhorted. Howard Dean tried to recover, and Joe Lieberman looked to get in the game.
The Democratic presidential caravan rolled into New Hampshire on Tuesday, a day after the Iowa caucuses jumbled the race by elevating Kerry and Edwards, while slapping down Dean.
Those three candidates now square off with Clark and Lieberman, both of whom skipped Iowa to concentrate on Tuesday's New Hampshire primary.
"The whole world will be watching what you do here, as they were watching in Iowa," Kerry told screaming supporters in Manchester.
The Democratic presidential race also suffered its first major casualty Tuesday -- Missouri congressman Dick Gephardt ended his campaign after a distant fourth-place finish in Iowa.
The remaining candidates find themselves locked in a completely different race than the one they thought they were running just a few weeks ago, given the surprise one-two finish of Kerry and Edwards in Iowa.
'Comeback Kerry'
After a difficult 2003 that included an operation for prostate cancer, sliding poll ratings and a series of campaign staff shake-ups, Kerry had an extraordinary few weeks in Iowa.
"Thank you, for welcoming back to New Hampshire, 'Comeback Kerry,"' the still-hoarse senator told supporters who greeted him in Manchester.
Toward the end of last year, the Kerry campaign decided to re-double its efforts in Iowa, hoping that a strong showing there would boost him in New Hampshire, his neighboring state. That move may be paying off, said analysts, who credited Kerry with skillfully demonstrating foreign policy experience while highlighting Dean's lack of same.
Iowa voters also seemed to respond favorably to a reunion of Kerry and a man whose life he had saved back in Vietnam.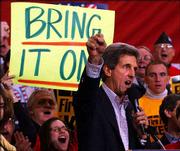 Strong look
Edwards, who zoomed from single digits in Iowa polls to second place with 32 percent, told reporters that his positive campaign would also play well in New Hampshire.
After speaking with voters at Manchester's public library, Edwards said his strong finish in Iowa "means voters in New Hampshire will take a strong look at me before they vote next Tuesday."
While the Edwards forces are hopeful about New Hampshire, their bigger target is the South Carolina primary on Feb. 3. The North Carolina senator said his southern appeal makes him the best bet against President Bush in the fall.
Concentrating more on New Hampshire, though, was Dean, the first Iowa candidate to arrive after a somber midnight flight to an early-morning rally in Portsmouth.
"I am so glad to be in New Hampshire, because we have hardly begun to fight," Dean said to a cheering crowd that gathered around 3 a.m.
Having been attacked in Iowa for a perceived hot temper, Dean strove to present a more moderate image during a measured, almost methodical policy address speech later in downtown Manchester. He discussed the budget deficit, crowded prisons and health care, referring only briefly to his opposition to the war in Iraq.
"Those of you who came here intending to be lifted to your feet with as lot of red-meat rhetoric are going to be a little disappointed," said Dean, dressed in a dark suit and tie.
Polls show tight race
Dean still leads polls in New Hampshire, but those were taken before publicity of the Iowa results. And they have tightened considerably in recent weeks.
Clark, who had passed Kerry in those polls but now faces a renewed challenge from the Massachusetts senator, gave a pep talk to aides and volunteers at his campaign office in Manchester.
The former NATO commander said he is the only Democrat with the foreign policy experience necessary to compete with President Bush in the fall.
"We need a candidate who in time of war can stand toe to toe with the president of the United States and challenge his leadership in this country's national security," Clark said.
Lieberman, meanwhile, said his more centrist views make him more competitive in the fall.
"Voters in New Hampshire make up their own minds," Lieberman said. "They don't let pollsters, pundits or anybody else tell them how to vote."
The five contenders, along with two long shots, Ohio congressman Dennis Kucinich and New York civil-rights activist Al Sharpton, are scheduled for their first post-Iowa debate on Thursday.
Copyright 2018 The Lawrence Journal-World. All rights reserved. This material may not be published, broadcast, rewritten or redistributed. We strive to uphold our values for every story published.