Hearing to air concerns on state justice system
People who are unhappy with Kansas' criminal-justice system will have a chance to voice their concerns this week at a hearing in Overland Park.
The public hearing is the last in a series of meetings organized by Atty. Gen. Phill Kline, who alleges that justice "has taken a back seat" in Kansas. Kline argues that the state is too lenient in punishing violent offenders and is using feedback from the hearings to make recommendations to the Legislature.
The hearing will be at 7 p.m. Thursday at the Overland Park Police Department, 12400 Foster St. Panel members include Kline, law-enforcement officials and judges.
Earlier meetings took place in other Kansas cities.
Haskell president warns against alcohol abuse
Haskell Indian Nations University President Karen Swisher used spring-semester convocation ceremonies to warn -- and plead with -- students not to abuse alcohol.
"Alcohol and other drug abuse is all too common in Indian culture," Swisher said Tuesday, reminding the group that three Haskell students were killed in a drunken-driving accident in the fall of 1999 and that last month, a student's off-campus death was attributed to alcohol poisoning.
Also, Swisher said the university would not tolerate "violence or verbal abuse" against students because of their "skin color or sexual orientation."
She promised the students a "positive and promising" environment in which to learn.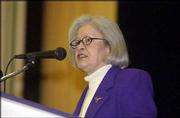 Haskell registrar Manny King announced that 989 students were enrolled in spring classes.
State Rep. Toelkes to run for re-election
Topeka -- State Rep. Roger Toelkes, a Topeka Democrat, has filed to run for re-election.
Toelkes, whose district includes western Douglas County, southeast Shawnee County and parts of Topeka, was first appointed to fill an unexpired term in 2001. He won election in 2002.
A retired educator from the Shawnee Heights school district, Toelkes said his primary goals were to promote a sound economic climate and maintain a quality school system.
Copyright 2018 The Lawrence Journal-World. All rights reserved. This material may not be published, broadcast, rewritten or redistributed. We strive to uphold our values for every story published.