Topeka — Gov. Kathleen Sebelius' proposed tax increase isn't enough to fix the unconstitutional school-aid system, according to a lead attorney in the lawsuit that led a judge to declare Kansas school financing inadequate and tell lawmakers to spend an additional $1 billion.
"It's kind of like giving a thimbleful of water to someone dying of thirst," said Alan Rupe, a Wichita attorney. "Of course, they are going to want it, but it isn't enough to solve the problem."
Rupe represents the school districts that successfully sued the state over funding issues.
In December, District Judge Terry Bullock of Topeka declared the school-finance system shortchanged students, especially minorities. He gave the Legislature until July 1 to fix the problems.
Last week, Sebelius opened the 2004 Legislature by offering a plan to increase state income, sales and property taxes to bankroll a $304 million spending increase for schools over a three-year period.
But in his earlier court order, Bullock pointed the Legislature in the direction of a legislative-commissioned study that called for a $1 billion increase in school aid.
And while Rupe said he appreciated Sebelius' pushing for an increase, he said her proposal didn't go far enough.
"I think her motivation is what can we afford, and our motivation is what does the constitution require," he said.
Under the Kansas Constitution, the Legislature is required to "make suitable provision for finance of the educational interests of the state."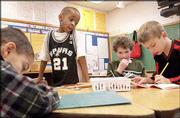 Besides being too small, Sebelius' plan to include special education funding in the general state aid for schools is troubling, Rupe said. The result would funnel more special education funds to smaller districts at the expense of larger ones, such as Lawrence.
Rupe said his group of schools, Dodge City and Salina, would have supported Sebelius' proposal had she called for the funding increases outlined by the 2001 Augenblick & Myers Inc. report, which was cited by Bullock in his court ruling.
"I was hoping she had the wherewithal to require a three-year implementation of the Augenblick and Myers, which fixes the problem," he said.
During her campaign for governor, Sebelius, a Democrat, said she would implement the Augenblick & Myers study over a three-year period without raising taxes.
"Our challenge is to reach that goal as quickly as possible," she had said.
The fact that she is now proposing to do neither has prompted criticism from both sides of the issue.
While Rupe says Sebelius' plan falls short, Republican leaders have said it represented a broken promise to voters and would wreck the economy.
Echoing that opinion, Karl Peterjohn, executive director of the Wichita-based Kansas Taxpayers Network, said, "Kansas cannot afford to stop or slow down the slight economic recovery that started last year. Raising taxes under the Sebelius plan would put us back into a recession."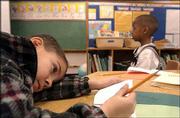 Copyright 2018 The Lawrence Journal-World. All rights reserved. This material may not be published, broadcast, rewritten or redistributed. We strive to uphold our values for every story published.