Pretoria, South Africa — Ruling party militants chased the puppy's owners from their farm in Zimbabwe, then turned on the Labrador mix, gouging out his eyes.
Bloodied and wounded, the puppy wandered the bush for days before volunteers rescued the dog and airlifted him to safety in neighboring South Africa.
The dog, Batty, is one of some 3,000 pets evacuated to South Africa after being abandoned amid Zimbabwe's chaotic seizure of white-owned farms over the past three years.
More than half the rescued animals have been reunited with their owners, while the rest have found new homes in South Africa.
"Many of the farmers and their families have lost everything, so it means a lot to be reunited with their pets," said Fiona Manuel, a volunteer at Wetnose Animal Rescue, a shelter that takes in the abandoned animals.
Zimbabwe has confiscated at least 5,000 white-owned farms, devastating the agriculture sector in a country already in turmoil from political unrest and the economic policies of President Robert Mugabe.
Mugabe defends the practice of seizing the farms for redistribution to impoverished blacks, saying the land is being returned to its rightful owners.
At the Wetnose shelter, in the South African capital of Pretoria, volunteers deal with a little-known result of the program: the abandonment of thousands of animals.
Many animals, including dogs, cats, hamsters, rabbits, swans, horses and cattle have been slaughtered. Others are cruelly treated: One rescued dog had acid poured over its coat.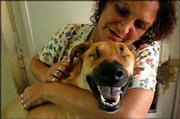 "I don't understand how there can be this cruelty," Manuel said. "Perhaps it is to spite the owners."
Batty, who was renamed by the veterinarian who cleaned and stitched his wounds in Zimbabwe before he reached Pretoria, was left permanently blind. The whereabouts of his owners, whose farm was seized a year ago, are unknown.
"Some say it's cruel to keep a blind dog, but we don't put down blind people, do we?" said Pippa Nairn, who adopted the dog and took it home to Cape Town.
Copyright 2018 The Associated Press. All rights reserved. This material may not be published, broadcast, rewritten or redistributed. We strive to uphold our values for every story published.