Topeka — Four years after the Legislature approved $34 million to build a maximum-security juvenile prison in Topeka, Gov. Kathleen Sebelius is not ready to open it.
The 210-bed Kansas Juvenile Correctional Complex had been scheduled to open July 1, and construction is nearly complete. But in her proposed budget for the fiscal year that starts on that date, Sebelius included just $430,000 to supply the facility with water and electricity -- but not the $11.8 million needed to staff and operate it.
Sebelius suggested that if she had been governor in 2000, the center might not even have been built.
"I tend to be very reluctant to build beds, so I need a lot of information and testing projections before we get to that point," Sebelius, who took office in January 2003, said in an interview.
The governor said she thought the center eventually would be opened, but she suggested the state would look at closing other housing units for young offenders at the same time.
"We really don't have the bed need at this point, and hopefully won't," Sebelius said.
1997 reform legislation
The new youth prison, which shares the grounds of the existing Topeka Juvenile Correctional Facility, was built with the expectation that the state would need more room to house young offenders convicted of serious crimes.
"We wanted to make sure serious, chronic and violent offenders are kept in a place secure enough for public safety," said Sen. David Adkins, R-Leawood.
Adkins was an architect of 1997 reform legislation that created the state's Juvenile Justice Authority and imposed new sentencing guidelines for juvenile offenders -- including longer sentences for crimes serious enough to warrant terms in adult prisons.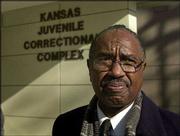 Population levels off
When the Legislature approved construction of the new maximum-security prison in 2000, the state housed 569 juvenile offenders in centers built for 517. And the juvenile inmate population was expected to rise.
But that has not been the case in the short term. The average monthly population fell, from 569 in 2000 to 480 in 2001.
Last year's opening of a 152-bed center in Larned for juveniles with substance abuse and psychiatric problems left the state with capacity for 547 juvenile offenders.
As of Friday, the population stood at 492.
The Kansas Sentencing Commission recently projected that the juvenile inmate population would be 507 in July, 536 in July 2005 and 561 by July 2006.
Not all the beds in the juvenile facilities are interchangeable, since the centers vary by services, level of security and other factors. The new maximum-security complex in Topeka will house only male juveniles.
James Frazier, deputy juvenile justice commissioner, said the new Larned center and the Topeka complex were the first two centers Kansas had built specifically for juvenile criminals. Others were built for other purposes and aren't necessarily the best settings for violent and chronic offenders, he said.
Frazier said the governor's decision not to appropriate money for the new Topeka complex wasn't altogether unexpected.
"On one hand, I wasn't real surprised because I know what the budget has been like the last few years," Frazier said. "This is one of the places where we can postpone spending and not have a significant impact on current programs."
Kansas' most violent young offenders now are housed at the Topeka Juvenile Correctional Facility, which has space for 219 youths but housed 258 as of Thursday.
Assistant Supt. John Flippin said 50 to 60 young offenders would be candidates to move to the new maximum-security center when it opened.
A new, 60-bed medium-security unit on the Topeka campus is scheduled to open this year. At that time, two existing units on the campus will be closed.
'New mood'
Sebelius said building the maximum-security complex might have been premature, especially in light of the 1997 reforms.
The governor said the "new mood" in juvenile justice is intervening in youngsters' lives early, before they commit serious crimes.
"We may not have been counting on our good works enough when we actually went and built an old-model facility," she said.
House Appropriations Committee Chairman Melvin Neufeld, who helped write the final version of the bill funding the new center, said legislators have had trouble grappling with juvenile crime, leaving policy uncertain.
"Construction of that facility is probably a few years ahead of when it needed to be built," Neufeld said. "The timing was bad."
Copyright 2017 The Associated Press. All rights reserved. This material may not be published, broadcast, rewritten or redistributed. We strive to uphold our values for every story published.