New Orleans — Jalen Rose and Alvin Williams helped Toronto overcome Vince Carter's injury.
Rose hit a game-tying shot with one second left in regulation and scored a game-high 20 points as Toronto took a 78-74 overtime victory over New Orleans Thursday night, sending the Hornets to a fourth straight loss.
Alvin Williams hit a pair of jumpers in a low-scoring overtime to finish with 16 points, while Donyell Marshall had 16 points and 12 rebounds.
Reserve Morris Peterson, who was on crutches with a strained right ankle after Toronto's loss Wednesday at Detroit, scored 13 points.
"I don't really think we understand the potential that we have as a whole. We have a lot of players who understand how to play this game," Rose said. "We understand that Vince is our franchise player. Once he went down, everybody had to step up his level of play ... and try to find a way to win the game regardless -- no excuses."
Carter left the game with 4:41 remaining in the first quarter after injuring his right leg on a missed dunk. He was fouled as he soared through the lane. Team officials called the injury a strained quadriceps and said Carter's condition would be re-evaluated today.
With the score tied at 74, New Orleans had two chances to take the lead but ended up with a missed shot by P.J. Brown and a turnover when Robert Traylor couldn't handle Baron Davis' pass.
Williams' jumper with 17.6 seconds left put Toronto up 76-74 and ended up being the game winner. All of Williams' points came after halftime.
"We all want to get guys who really play hard and really care more about winning than anything. That's Alvin Williams," coach Kevin O'Neill said. "He played big-time basketball for us in the second half."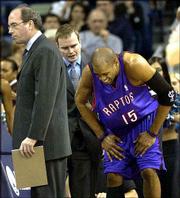 After Williams' last basket, Traylor lost another Davis pass out of bounds and the Hornets were forced to start fouling.
Lamond Murray hit only one of two foul shots, leaving New Orleans within three points, but Traylor got the ball and went for a short jump shot that missed, then got his own rebound and missed again.
"Offensively, I'm really scratching my head right now," said Hornets coach Tim Floyd.
George Lynch led New Orleans with 12 points, while Brown had 11. Jamaal Magloire had 10 points and 10 rebounds but missed much of the second half after committing a turnover and being pulled from the game. Davis had only 10 points on 4-of-17 shooting.
Bucks 86, Nets 83
Milwaukee -- Toni Kukoc scored 10 of his 17 points in fourth quarter and Milwaukee spoiled Kenyon Martin's return from a suspension. Martin, who missed two games for fighting with the Los Angeles Clippers' Corey Maggette last week, finished with 24 points and 10 rebounds before fouling out.
Michael Redd added 15 points and reserve Erick Strickland had 11 as Milwaukee won its 10th straight home game.
Grizzlies 108, Bulls 93
Memphis, Tenn. -- James Posey scored 16 of his 23 points in the fourth quarter and Jason Williams added 20 points to lead Memphis over Chicago.
Posey was 5-of-9 from the field and hit all 10 of his free throws to help Memphis win its third straight and fifth in the last six.
Jazz 97, Heat 85
Salt Lake City -- Andrei Kirilenko scored 15 of his 26 points in the fourth quarter and Utah beat Miami for the sixth straight time in a foul-filled game. The teams combined for 67 personal fouls, but it still wasn't close to the shot-clock era record for regulation. That was 84 between Indiana and Kansas City on Oct. 22, 1977.
Warriors 119, Cavs 102
Oakland, Calif. -- Clifford Robinson scored a season-high 35 points, and Golden State defeated LeBron James and cold-shooting Cleveland. James finished 8-for-21 with 29 points, six rebounds and six assists. Erick Dampier had his 19th double-double with 18 points and 11 rebounds and Jason Richardson added 25 points for Golden State.
Suns 105, Blazers 96
Portland, Ore. -- Amare Stoudemire had 22 points and 10 rebounds to give Phoenix its first win without Stephon Marbury. It also was the Suns' first win of 2004, and snapped a four-game road losing streak, as well as just their fourth win overall on the road this season.
Copyright 2018 The Associated Press. All rights reserved. This material may not be published, broadcast, rewritten or redistributed. We strive to uphold our values for every story published.