With less than two minutes to play and the Veritas Christian boys basketball team trailing, it was time to foul the Kansas City (Mo.) Knights to try and climb back in the game.
Big problem. During the first 14 minutes of the second half, the Eagles had committed just one foul. They needed seven to force the Knights to shoot -- and hopefully, clank -- some free throws.
It was glaring evidence that the Veritas defense lacked the aggressiveness it needed to keep points off the board Thursday in an 81-73 Knights victory at the East Lawrence Recreation Center.
"I think we tied them in the second half," Veritas coach Doug Bennett said. "But the intensity wasn't there. One team foul tells you that we're not getting after it."
The defensive lapses offset a tremendous day by the Eagles' perimeter shooters. Sophomore Andrew Bartlow hit five three-pointers and finished with 17 points, and freshman Kirk Long added 22 points from the point guard position. Together, the two complemented forward Mark Randtke, who led the Eagles with 24 points and seven rebounds.
"Offense wasn't the problem," Bennett said. "Seventy-three is enough to win a game."
After the Knights exploded for 24 second-quarter points, Veritas (2-7) was forced to play catch-up. Twice, the Eagles brought the game within four: 55-51 late in the third quarter, and 77-73 with 33 seconds to play when Bartlow nailed yet another three-pointer.
But Veritas' urgent need to foul -- and foul often -- took too much time off the clock. By the time the Knights were in the bonus, less than 30 seconds were left in the game.
"We've got to make up for our lack of maturity with some toughness and tenacity," Bennett said. "We didn't play like that."
It led to Veritas' fourth straight loss, but the Eagles won't have much time to dwell. They return to action today in a game at Topeka Cair Paravel. Tipoff is scheduled for 7:30 p.m.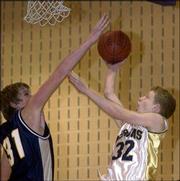 Copyright 2018 The Lawrence Journal-World. All rights reserved. This material may not be published, broadcast, rewritten or redistributed. We strive to uphold our values for every story published.