Here's a new twist to "The Streak" -- a close game.
Kansas University's basketball team extended its winning streak over rival Kansas State to a whopping 27 games Wednesday night at Allen Fieldhouse, stopping the Wildcats, 73-67, in KU's first single-digit margin of victory in the series in 11 games.
The Wildcats, who cut a 14-point deficit to four down the stretch, made Wednesday's affair the closest in The Streak in 19 games -- since a three-point KU victory in 1997 in Manhattan.
"You have a tendency to think when you've beaten a team 20 games in a row you will win easily. It's not the case. We've got to take it a lot more serious when we go to Manhattan (for rematch Jan. 28)," weary KU guard Keith Langford said after collecting 17 points and seven rebounds in 34 minutes.
"K-State played a darn good game," Langford added of the Wildcats (8-4 overall, 0-1 Big 12 Conference), who might have won had KU (10-2, 2-0) not received yeoman efforts from Michael Lee, who scored a career-high 16 points in his first game back since suffering a broken collarbone, and Jeff Graves, who made up for the loss of the injured David Padgett by scoring 11 points and grabbing nine boards in 33 minutes.
"They played hard on the boards. The intensity and hard play was there for them," Langford added.
K-State and KU each had four players score in double figures. Wayne Simien added 19 points and nine boards.
KSU was led by Frank Richards and Tim Ellis who had 19 and 17 respectively.
"K-State is definitely getting better. We let them stick around," said Simien, who is 5-0 against the 'Cats in his career. "We had them by double digits in the second half. One thing we've not done all year is put people away. We needed to do that tonight. K-State is a dangerous team."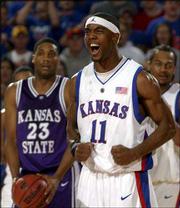 The Jayhawks, who led at halftime, 36-32, despite getting outrebounded 20-17, looked like they might cruise to victory in opening the second half with a 15-5 run.
Graves -- who graciously accepted coach Bill Self's decision to start Bryant Nash in place of Padgett at the center in an attempt to create some defensive havoc and keep Graves from early foul trouble -- had four points and an assist in the run.
"I think it without question was Jeff's best game to date. He was aggressive, made some nice passes," Self said.
Point guard Aaron Miles, who had 11 assists and eight points while playing 34 minutes on his sprained right ankle, had five points in that surge. Simien added four points, and KU led 51-37 with 15:33 left.
"Aaron was a half step behind all night because of his ankle, but he played great," Self said.
Still, KSU put together a 26-16 surge -- which was helped by a controversial intentional foul call on Simien and officials ruling that Miles stepped out of bounds on a fast break when he appeared to be in bounds -- and cut the gap to 67-63 at 1:53.
That's when Simien went to work, cashing an inside shot off an assist by Miles at 1:39. Lee then hit four free throws.
KSU's Richards scored a hoop, but the Jayhawks held a commanding eight-point lead with 24 seconds left.
"I don't think you win the game without him," Self said of Lee, who had missed nine straight games. "He's tough. He has energy."
Self was pleased with the end result on a night the Jayhawks hit just five of 17 threes and 18 of 28 free throws. Overall, KU hit 47.2 percent of its shots while holding KSU to 39.4 percent.
"I told our guys if we shoot free throws like we'd been shooting them, we win by 15, and everybody leaves here thinking you played so well," Self said. "Fortunately, it didn't come back to haunt us too much."
He had praise for the visitors.
"K-State played great," said Self, who had been miffed at his own team the past two days, kicking the Jayhawks out of practice Tuesday afternoon and again at shootaround Wednesday afternoon for lack of effort.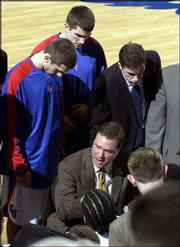 "We were off a bit. We feel good we won the game. Our point guard is hurt visibly. Keith's out of it visibly (with nagging flu-like symptoms), and David is out. We're tired, we're sick, we're beat up.
"I didn't think we were rusty," he added, referring to KU's nine-day break between games. "I felt we didn't play with the energy level we have been."
The bottom line is KU beat a scrappy KSU team and kept the streak alive.
"They have a lot of talent over there," Miles said. "They have some warriors over there. They play hard. It's not a surprise to me."
Self added: "I told our guys they respect K-State totally, but respect them more after playing them. I didn't see the game as part of a streak. I saw it as our first game against K-State, 0-0."
KSU gets another chance later this month at Bramlage Coliseum, where KU has won 20 in a row.
"I'm glad we won. You want to send a message when you are at home," Langford said, "that teams can't come into our house and win. I don't care if we win by one or 30, a win is a win."
KU will next meet Texas A&M; in a 3 p.m. tipoff Saturday in College Station, Texas.
Copyright 2018 The Lawrence Journal-World. All rights reserved. This material may not be published, broadcast, rewritten or redistributed. We strive to uphold our values for every story published.