Emporia — On an old Missouri Pacific Railroad corridor near Bushong recently, a stalwart group of volunteers braved winter winds to demonstrate what they do -- work hard to turn sections of unused rail line into trail for bicyclists, hikers and equestrians.
It's not glamorous work, but the members of the Kanza Rail-Trails Conservancy, a nonprofit organization with members in Emporia and throughout the state, are passionate about it.
In part, they are passionate because they want to help create a system of trails where schoolchildren can get close to nature and history, where cyclists and hikers can experience the unique beauty of the Kansas landscape, and where equestrians can take long, uninterrupted rides in pristine countryside.
In part, they are passionate because they, 13 board members and about 300 conservancy members throughout the state, are hikers, cyclists and equestrians themselves.
"When we reorganized, we took on board members who we knew would be active. ... We wanted to have board members who reflect the users," said board member Gina Poertner of Emporia, an avid cyclist.
Poertner spoke with enthusiasm about a 64-mile ride another board member, Scott Allen, organized in May around Council Grove.
"There were miles where we rode under a canopy of trees. It was sunny, and the arms of the trees stretched across the trail," she said.
Connecting the dots
Working with the national Rails-to-Trails Conservancy and local landowners and communities, the conservancy is developing sections of trail, removing ballast and obstacles, repairing bridges, adding handrails, cutting back overhanging branches, and grading and laying limestone and other materials to make a trail that is smooth and comfortable.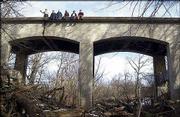 "What we like to do is do a little near each town, then connect them," Allen said.
That means doing physical labor near Herington, Council Grove, Bushong, Ottawa and Topeka -- the statewide organization has divisions in several counties.
"Our mission right now is to connect Bushong and Allen," Poertner said.
The connection is part of the Flint Hills Nature Trail, a 117-mile trail from Herington to Osawatomie, intersecting the Landon Nature Trail, from Topeka south to Lomax, and the Prairie Spirit Trail from Ottawa to Iola, a developed trail.
The group's brochure notes that the Flint Hills Nature Trail "will eventually intersect the planned trail along the new Americus Road at Bushong. ... The new road and trail will connect US-50 and US-56. The Americus Road trail, in turn, will connect to a future Emporia city trail system."
The Flint Hills trail is a link in the southern route of the 6,830-mile-long coast-to-coast American Discovery Trail.
Historic landmarks such as the Adair Cabin at Osawatomie, made famous by John Brown during Bleeding Kansas, and the Kaw Nation village sites near Council Grove dot the Flint Hills Nature Trail, attracting both local history buffs and out-of-town visitors. And the trail opens access to unique natural features, such as the tallgrass prairie.
It also opens wildlife viewing opportunities.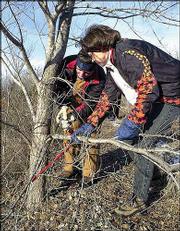 "We've seen deer, wild turkey, fox. Biology teachers would have a field day out here," said member William Borst, also a cyclist.
Landowner concern
Developing rails to trails is not a project free of controversy, however.
Landowners worry that the public will trespass or litter their property or infringe on their privacy.
"A study showed that opposition to trails is highest during construction," Allen said. "Then when it's done, it drops off."
But the members know that the subject is sensitive. They contact landowners before doing any work, and explain to them what they plan to do. So far, they have had good cooperation from adjacent landowners.
"We have had landowners who were for it from the beginning, and others who were not but changed their minds," Poertner said. "We were able to show them how it will benefit them."
The volunteers repair fencing, cut back brush and clean up garbage. Studies have shown, Poertner said, that abandoned rail line is prime dumping ground. Along part of the Bushong trail, she even found a pile of cans and bottles that looked as if it had been burned. But once the trail is developed and used and closed to motorized vehicles, the dumping stops.
Getting organized
The conservancy took over the project from the Kansas Horseman Foundation in the fall of 2000.
A September 2001 Emporia Gazette article described railroad corridors where little had been done since the foundation took over the deed in 1997. But during the period from fall 2000 to January 2002, the conservancy, which included some members of the horseman group, began reorganization and set to work paying off $50,000 in back taxes.
"We had to reorganize as a new group," Poertner said, "and go through a formal name change. ... We were in a kind of limbo for a while."
Now the group has completed four miles of trail east from Council Grove and received two grants to help purchase materials.
A grant from the Walter S. and Evan C. Jones Testamentary Trust of Emporia contributed $20,000 to install crushed limestone along 4 1/2 miles of trail near Vassar, south of Pomona Lake.
Another grant, for $941.14, from the Emporia Community Foundation will be used to improve two of three bridges along the stretch of trail near Bushong.
Grants help to pay for principal projects, and membership dues and donations make up most of the group's funding, but members themselves also make contributions of money and equipment.
Frank Meyer of Herington, president of the board, and Daniel Pickert of Ottawa, vice president, purchased a grader for the group. And conservancy member Virgil Shellenberger of Emporia purchased an all-terrain vehicle to help haul equipment farther down the trail.
Members also contribute engineering and other skills.
"We've been fortunate to get people like that involved," Poertner said, "with equipment and skills."
Copyright 2018 The Lawrence Journal-World. All rights reserved. This material may not be published, broadcast, rewritten or redistributed. We strive to uphold our values for every story published.