Advocates for the state's poor and disabled were less than thrilled with Gov. Kathleen Sebelius' proposed welfare budget.
It's nice, they said, that she put in $4.3 million to get disabled adults off the Department of Social and Rehabilitation Services-run waiting lists. But they were hoping for $7 million.
And there's no move to reverse plans to drop more than 400 destitute adults from a pair of state-funded welfare programs -- MediKan and General Assistance -- that are all that's standing between them and homelessness.
Child welfare programs break even. So do hospitals and doctors.
There's no new money for pay raises for workers at the state's community programs for the developmentally disabled.
And while the fiscal 2005 budget proposals Sebelius made Monday sound bleak to advocates, they half-expected much worse.
"The fact that she put in the $4.3 million -- that's really pretty good," said Gina McDonald, president and CEO at the Salina-based Kansas Association of Centers for Independent Living.
If enacted, the $4.3 million -- called a "supplemental" -- could be spent within the current budget year, which ends June 30.
"It's been years since there's been a supplemental for SRS that wasn't driven by money that they had to spend to keep up with caseload increases," McDonald said. "So we feel like we're breaking some new ground here. It's a good first step."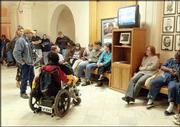 With the supplemental, Sebelius' budget calls for SRS spending $2.17 billion in the current fiscal year and $2.34 billion next year.
Almost all of the increase is tied to health care costs.
SRS Secretary Janet Schalansky said she, too, saw progress in the governor's budget.
"In social services, the needs always seem to outstrip money that's available," she said. "But we feel that what the governor has proposed helps us move forward on our primary goals, which are to support services in community settings, rather than in institutional-type settings, and to move (foster children) to permanency in a more timely manner."
Schalansky noted that even though 2,000 physically or developmentally disabled adults were on SRS waiting lists, the overall number receiving services had increased from 9,296 in 2002 to 10,126 in 2004.
The governor's budget, she said, would push next year's total to 10,921.
Late last month, a Sedgwick County judge issued a temporary restraining order in a lawsuit that challenged SRS plans to drop more than 400 adults from the state's MediKan and General Assistance programs.
The restraining order prevented the cuts from taking effect Jan. 1.
Schalansky said the restraining order's consequences were not addressed in the budget.
"We know that's something we're going have to deal with," she said. "But, frankly, it happened so late in the budget-building process, we couldn't get to it in time. I don't think the governor's office could either."
A hearing on the legal merits of the restraining order is set for Friday in Wichita.
Paul Johnson, director of the church-sponsored Public Assistance Coalition of Kansas, said that he and other advocates would try to salvage programs.
"Saving the lives of hundreds of disabled, vulnerable Kansans ought to be a high priority," Johnson said.
Copyright 2018 The Lawrence Journal-World. All rights reserved. This material may not be published, broadcast, rewritten or redistributed. We strive to uphold our values for every story published.