Geneva — Frightened investors Monday rushed to sell their holdings in Adecco, the world's largest employment agency, after the company said it was delaying publication of its annual results because of possible accounting problems.
Adecco shares sank 44 percent to $37.50 by midafternoon on the Zurich stock exchange. Its U.S. shares closed down at $5.23, or 30 percent, to $11.70 Monday on the New York Stock Exchange, amid fears of an accounting scandal like the one that has devastated the Italian food group Parmalat.
Adecco said it was looking into "material weaknesses in internal controls in the company's North American operations of Adecco Staffing" and "the resolution of possible accounting, control and compliance issues in the company's operations in certain countries."
The company had been due to publish its audited annual results on Feb. 4 but now said it did not know when they would be released. Spokesman Francois Vassard declined to give any more information because of the investigation.
The company said its audit and finance committee had appointed an independent counsel to resolve the issue.
"The management has been under pressure to deliver better results and to fulfill the wishes of the market, especially in North America. The profitability of that business is far below the average of the group. If management is under such pressure, the risk is always higher for having compliance problems," said Roland Wildman, analyst at Bank Leu in Zurich.
The U.S. operation is based in Melville, N.Y., the former headquarters of Olsten Corp., which Adecco bought in 2000 for $1.55 billion.
Victoria Mitchell, an Adecco spokeswoman in Melville, had no comment beyond what was issued in Switzerland.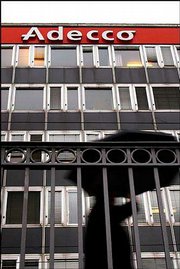 Adecco, which is based near Geneva, made a net profit of $261 million in 2002. It directly employs 28,000 people in 68 countries and claims to connect 650,000 jobseekers and temporary staff with businesses every day.
In sales, it is the clear market leader in placing general employees -- the business that is being investigated and which contributes about 90 percent of its overall revenue -- ahead of the U.S. company Manpower.
Wildman said the best-case scenario would be that the problem was confined to the United States -- which represents only 4 percent of Adecco's revenue -- and could relate to problems over workers' compensation or unemployment.
However, he suspected the issue could be wider. The worst possibility would be that it relates to Adecco's income from major clients, he said.
Copyright 2018 The Associated Press. All rights reserved. This material may not be published, broadcast, rewritten or redistributed. We strive to uphold our values for every story published.