Kansas University baseball coach Ritch Price absolutely loves going to Hawaii in January.
Price doesn't care about palm trees and posh accommodations. He's not so fond of the turquoise water surrounding the islands, and you won't find him building a sand castle on the beach or sipping a piña colada by water's edge.
The second-year coach simply likes the climate there because it's baseball weather all year round.
Price's favorite spots in the sea-bound enclave are Wong Stadium in Hilo, and Kona Field on Kona island, where his Jayhawks will play seven games in five days against the Hawaii-Hilo Vulcans, starting Friday.
"The great thing about the big island is Kona only gets like 15 inches of rain a year, so you're guaranteed playing," said Price, who led Kansas to its first winning season in six years in 2003. "When you go to Hilo, even though it rains like 180 inches on that side of the island (you can still play)."
The Jayhawks will play on this trip -- a lot -- said senior first baseman Ryan Baty, a Preseason All-American.
"It's the preparation phase that Hawaii is key on," Baty said. "And you get a great tan as well.
"When we left last year it was minus-18 wind chill. The day we got there it was 84 degrees, so you get to go out and you get to move around in some heat and you're muscles work a little easier out there."
The series will kick off the entire collegiate baseball season for the second straight year. Kansas won the series 4-2 last year, with Baty earning National Hitter of the Week honors after hitting .619 (13-for-21) during the six-game tilt.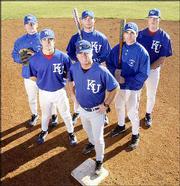 Although the 2003 Hawaii trip was beneficial to Kansas -- which finished 35-28 and earned its first Big 12 Tournament berth -- Price said there's much more to be gained this time around than simply vying for victories. The sunny skies and comfy climate make for a much more manageable practice environment than the clouds, chilly temperatures and occasional snow found in Lawrence this time of year.
"We'll practice in the morning and we'll practice in the afternoon," Price said of how the Jayhawks will spend their spare time on the trip. "We're going to get to the field three hours before game time each day so we're going to have an actual practice prior to playing each day.
"It sounds really glamorous, but it's all baseball. From the time you wake up in the morning until you go to bed at 11 o'clock at night, it is 24-7 baseball."
KU's probable starters when the Jayhawks open the baseball season Friday at Hawaii-Hilo. (Returning starters in bold)CatcherSean Richardson, juniorTransferFirst BaseRyan Baty, senior.377 avg., school-record 97 hits in 2003Second BaseMatt Baty, sophomore.336 avg., .413 on-base percentageShortstopRitchie Price, sophomore.319 avg., 75 hits (KU freshman record)Third BaseTravis Metcalf, junior.288 avg., 11 home runsLeft FieldAndy Scholl, juniorTransferCenter FieldJ.C. Sibley, juniorTransferRight FieldMatt Tribble, senior.335 avg., 17 doublesDesignated HitterMike Dudley, juniorTransferStarting pitcherTo be determined
Copyright 2018 The Lawrence Journal-World. All rights reserved. This material may not be published, broadcast, rewritten or redistributed. We strive to uphold our values for every story published.